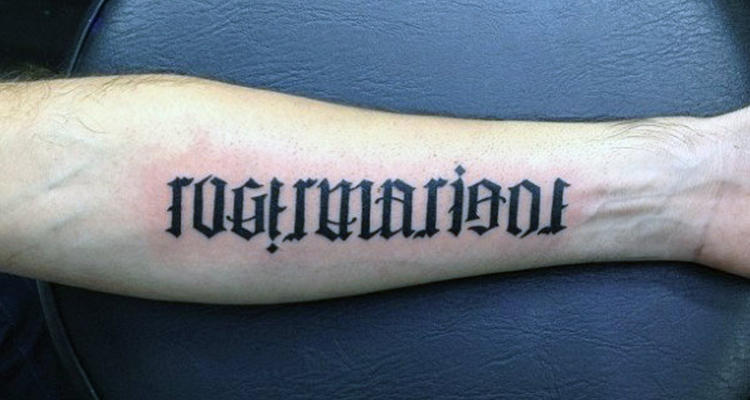 Ultimate Ambigram Tattoos
Posted on
To get inked is in trend, and people from almost all the age group, culture, religion etc. are getting etched for that matter. From teenagers to adults you will find having tattoos. Some people get tattoo to simply flaunt some artistic designs, whereas some get tattoos for a purpose, maybe to show their support to a particular group or event. Likewise people get tattoos for a reason and for no reason also.
There are motley of designs and options available when it comes to getting a tattoo. You can opt from some sacred symbol to any quote, anything which suits your personality. Some love to get bold patterns, while some like only sober or pretty designs and so there are Ambigram tattoos for such people.
Ambigram tattoos are the tattoos which have words that have been flipped, mirrored or inverted. A design can have only one word or a phrase. The word may either be flipped or inverted. You can also have ambigram tattoo with some designs, or element. Once the inversion is done, you may find the meaning of the word may change and in some cases, it may contrast the original meaning. Like other tattoo designs or patterns, ambigram tattoos also look beautiful and enchanting.
John Langdon invented ambigrams in the 1970s. Initially, he featured them on covers of books, from there they gained popularity and finally people started adopting them as tattoo designs for themselves.
Placement of Ambigram Tattoo
Tattoos usually looks attractive if it is placed on the right body part. For an example, there are some big designs which usually people get on their trunk and back areas. However, mid-sized ambigram tattoo designs, appear great on forearms. More often than not, ambigram tattoos are placed on the forearm so that a person can flip it in one way or the other to make it clearly understandable. However, some people still get ambigram tattoos etched on other parts of their body, such as back, ribs, legs, chest etc. and trust they look good even in those places. However, it is always a good idea to decide beforehand the design and the location or placement of the tattoo.
Categories of Ambigram Tattoos
Rotational Ambigram tattoos. In this kind of ambigram designs the word or phrase is rotated to a certain fixed degree. For instance, a word may be rotated at 180 degree or lesser. Sometimes, few words upon rotating may differ in the meaning from the original meaning. One of the common examples is the short form of the word down is "dn". When dn is rotated at 180 degrees, it will read as "up". You have to be very creative while you plan for such a tattoo.
Mirror Ambigram tattoos. Another common category of Ambigram tattoo is mirror ambigrams. Besides being a tattoo design, this is used in sing boards too. In this design a word will be engraved in such a way that when it is reflected on a mirror it will have the opposite of the original meaning. Such tattoos are done on both the arms.
Chain Ambigram tattoos. Another very beautiful ambigram designs. In this design, words are interlinked which form a chain. Letters are overlapped in this design, which means next letter will start before the other letter ends.
Figure Ground Ambigram tattoos. This is a unique design and need an expert to create such a tattoo. In this design spaces between letters are formed to create another meaningful word.
Three dimensional Ambigram tattoos. 3 D tattoo designs are becoming popular amongst people. As, the 3D effect looks great on a tattoo. A 3D ambigram tattoo has a word which is given 3D effects, which when viewed from different angle forms a different word.
Perceptual Shift Ambigram tattoos. This design is more or less like 3D ambigram tattoo design but the words in this design are not in 3D. It has the curves on the letter, which when viewed from different angle may look like having another word in it.
Natural Ambigram tattoos. This one is an easiest and simplest design out of all. As, it doesn't require a lot of art work. This design basically take words that are Ambigrams naturally. For example, words like "buds" and "suns" are natural rotational Ambigram.
Why Most People Prefer Ambigram Tattoos
You might have seen many people having ambigram tattoos and would have wondered what the meaning of the word is in particular. Well, sometimes people get these tattoos as they look great. Sometimes they just get an ambigram tattoo to show how that particular thing matters to them, for an instance, word family. People who love their families and are connected to their families will most often go for ambigram tattoo. Ambigrams not only look great, but also make for a perfect tattoo design. A great way to flaunt what you stand for!!
Here is a list of 31 ultimate ambigram tattoos for you, just keep scrolling:
1. 'FAITH' on your wrist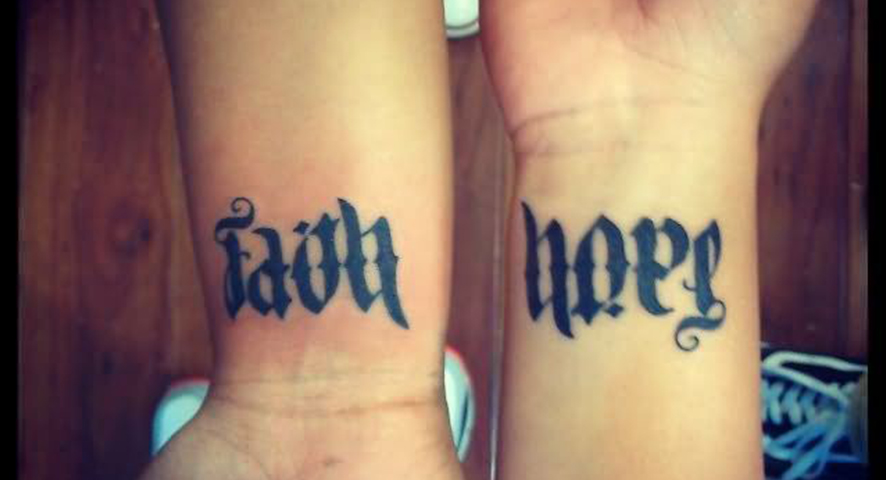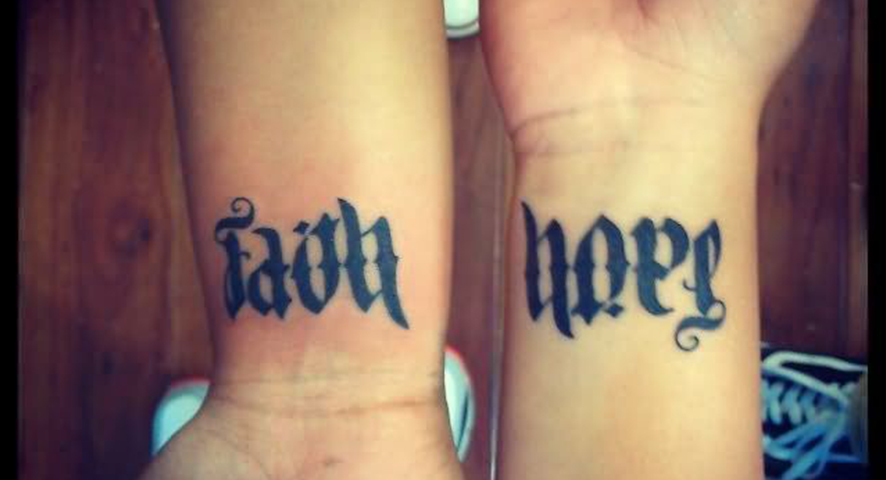 Just a simple ambigram tattoo with a word faith on your wrist will be eye-catching. If you don't trust try it out!
2. 'HOPE' on your wrist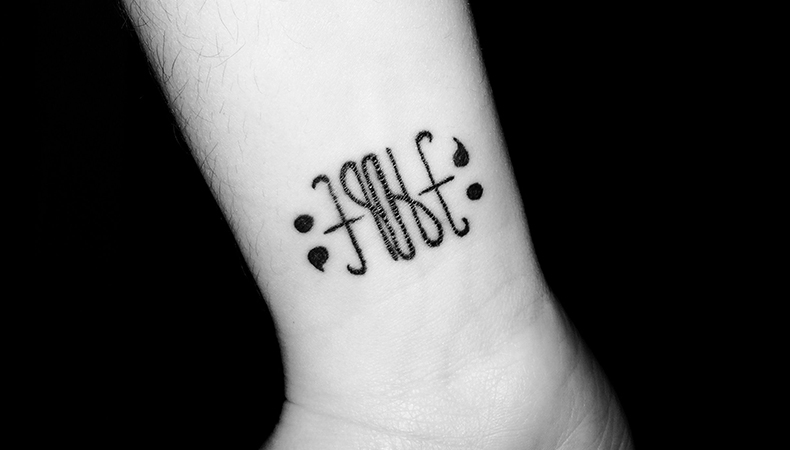 It will simply show how hopeful you are in your life, and how positively you fight back all the odds in life. Just a word can change the attitude. Get it done!
3. 'FAMILY' on the rib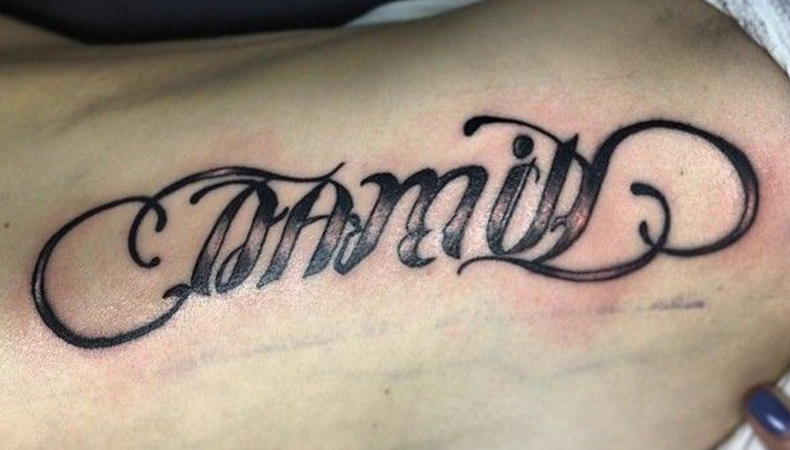 Rib tattoos really look fantabulous! However, these tattoos are relatively more painful, as rib area is a little more sensitive. But, they make great tattoos. Get 'FAMILY' etched on your ribs, and whosoever will see, will turn his head to see it again. The tattoo will cover the whole rib, from down to up.
4. Just 'LOVE' on your wrist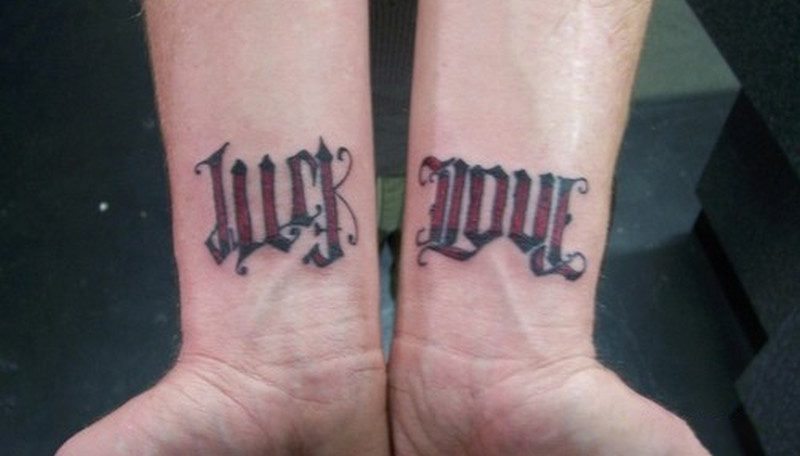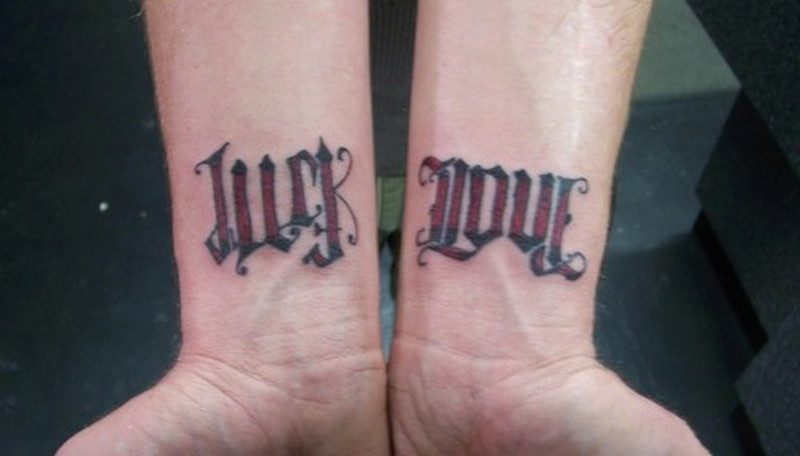 How about flaunting your love for your partner this time?? Just think, you will like the idea. Just a 'LOVE' ambigram tattoo on your wrist will be a head turner. It is specifically for those who believe in love and want to show their partners how much they love them.
5. 'PEACE' on your forearm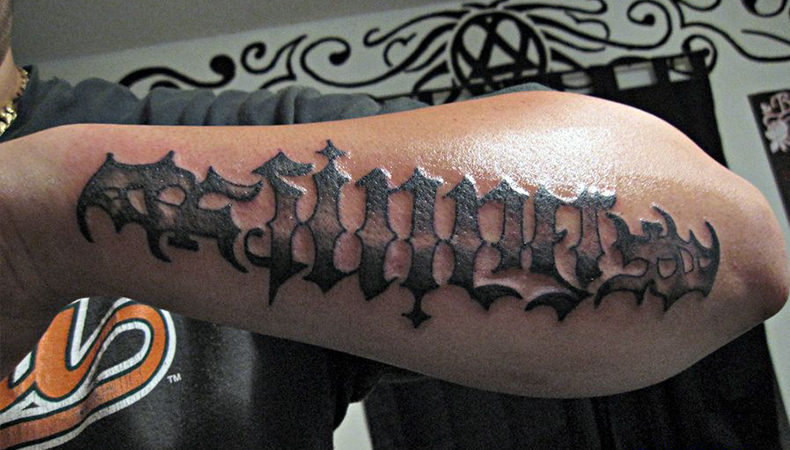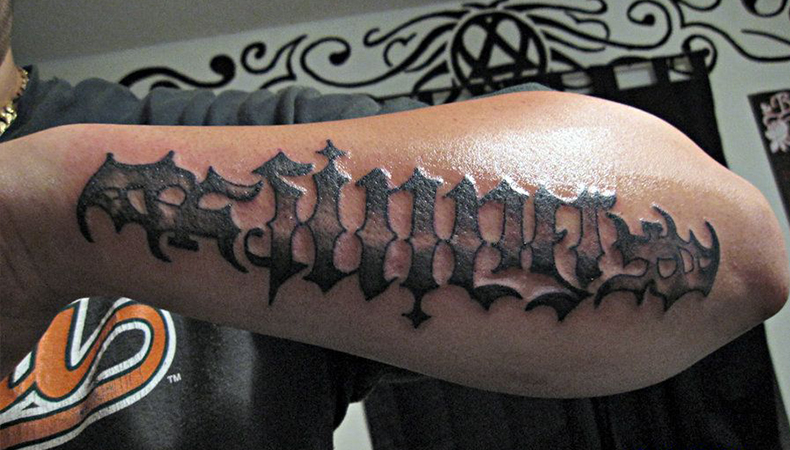 Anybody who loves peace and want to have it or someone who is supporting a group to spread peace in the world will definitely love to get PEACE etched on his/her forearm. Peace in ambigram will look great on forearm.
6. 'STRENGTH' on your forearm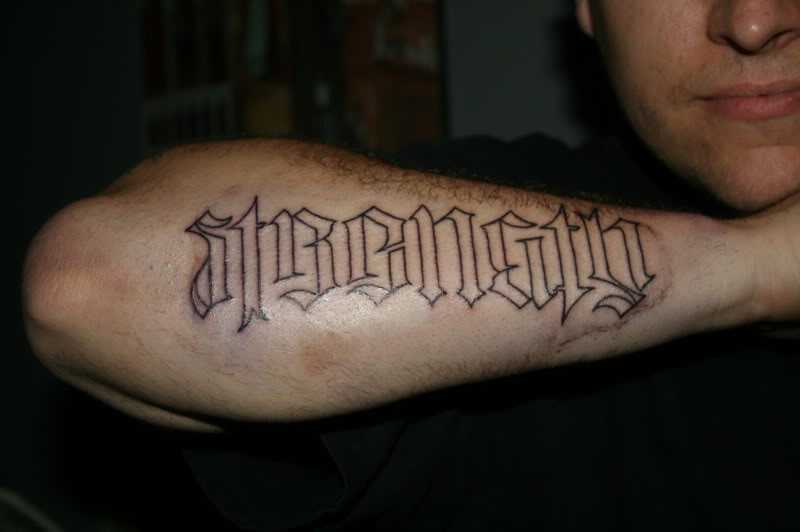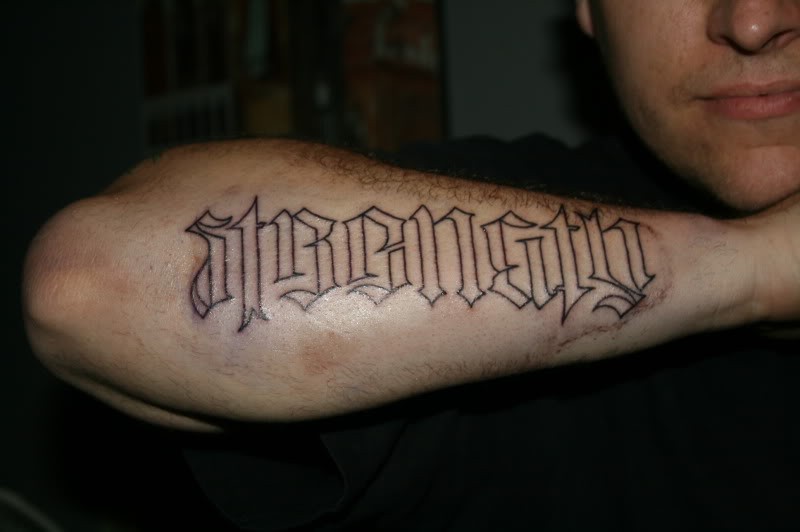 Sometimes life unfolds itself in the most peculiar way, but if we have strength and courage we can come out of the situation. Those who believe they have enough strength to fight all the odds will definitely like to get it inked on their forearms.
7. 'FAMILY FOREVER' on your forearm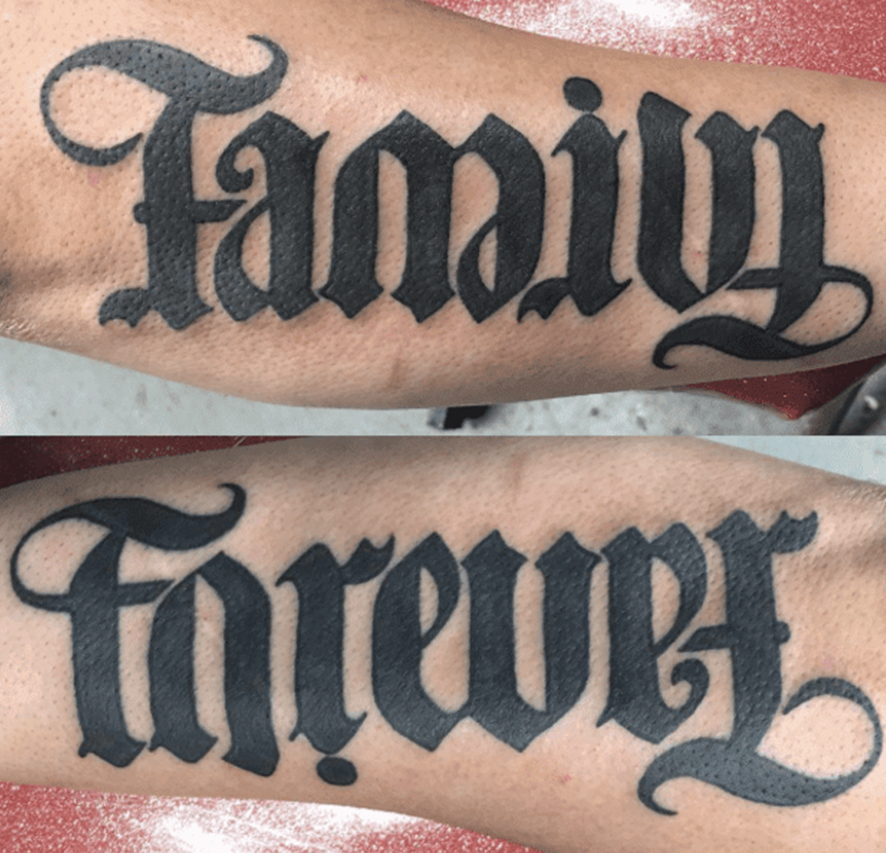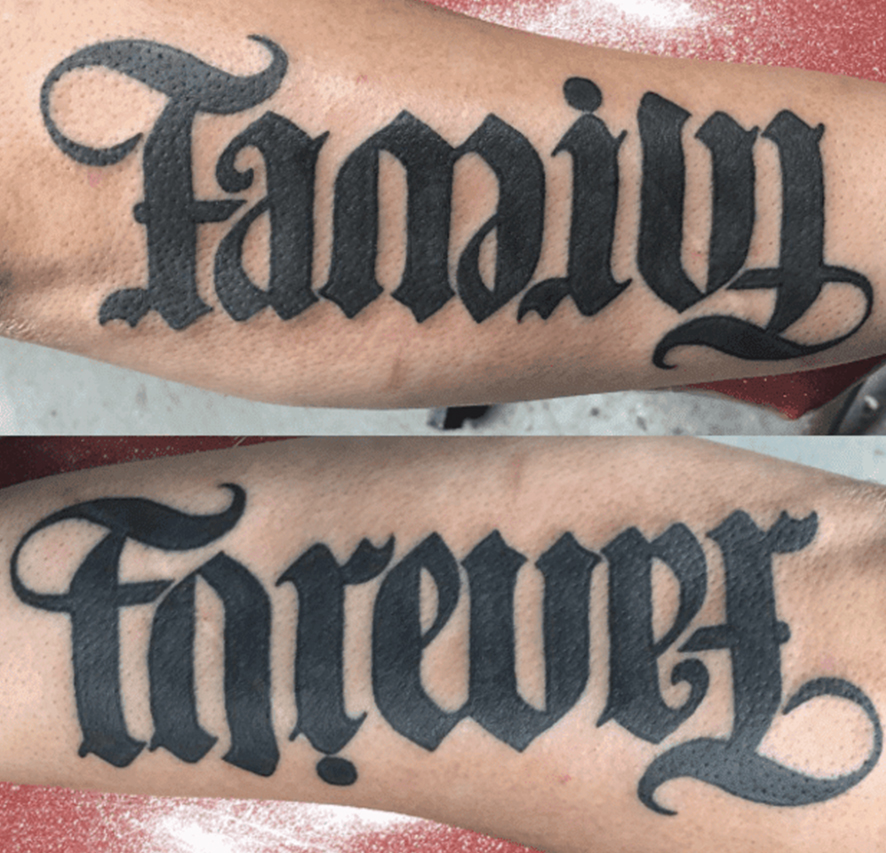 Another cool ambigram tattoo on your forearm, which will show your love for your family. This one is a great design to spread the message of togetherness as a family. This will be done in a way that it will have two words in one word FAMILY; when the word read from opposite side forever will also appear.
8. 'SINNER SAINT' on your forearm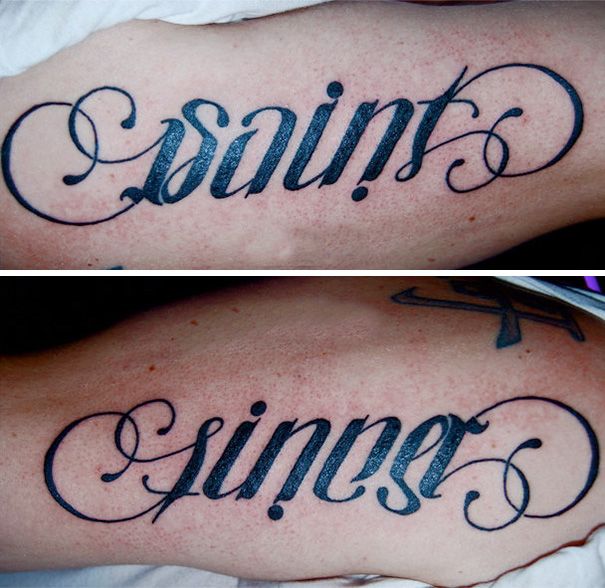 This will have two contrasting words as one word. Of course sinner and saint are two opposite words. This tattoo will have sinner word as main word, and when it will read from the opposite side it will read as saint.
9. 'FAITH HOPE LOVE' ambigram tattoo on your forearm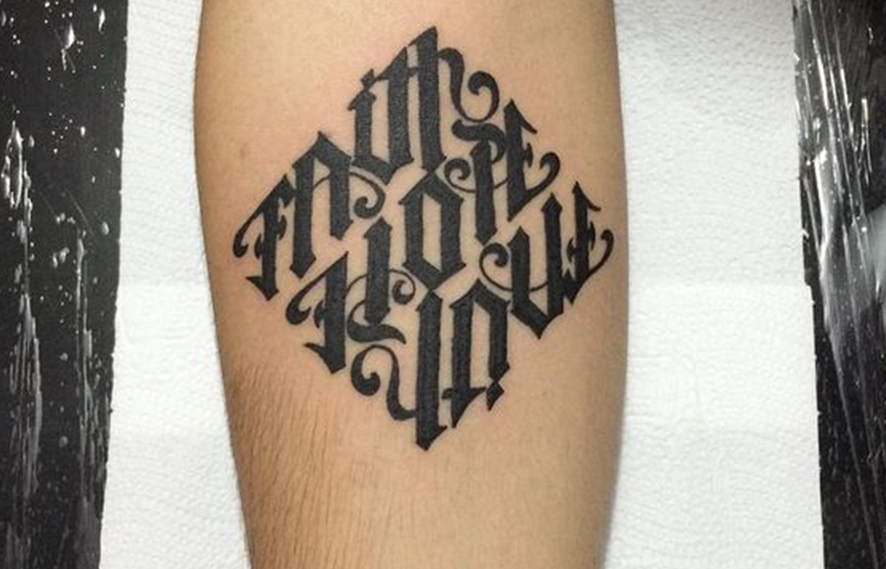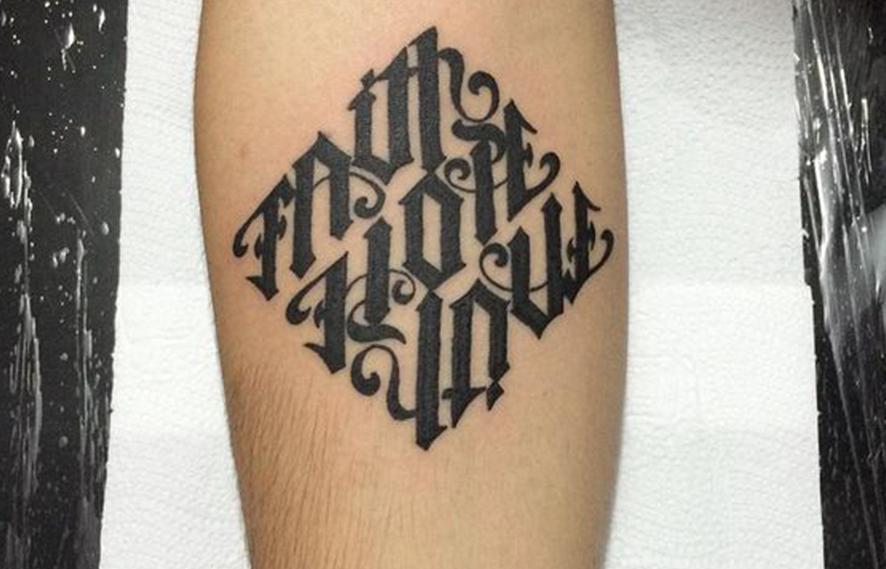 This one lies under the category of a chain ambigram tattoo. It has three words arranged in a way that they will form a shape of a diamond. Each word when viewed from different direction, will form the other two words. This one makes a classic tattoo and very creative.
10. 'WORK HARD PLAY HARD TATTOO' ambigram tattoo on your chest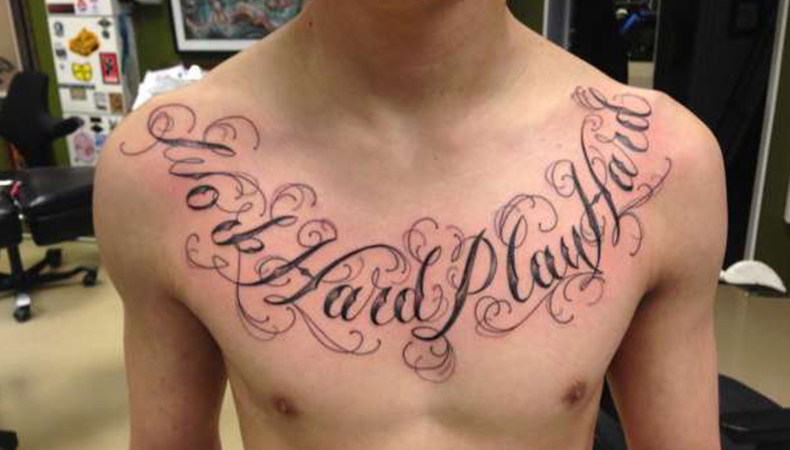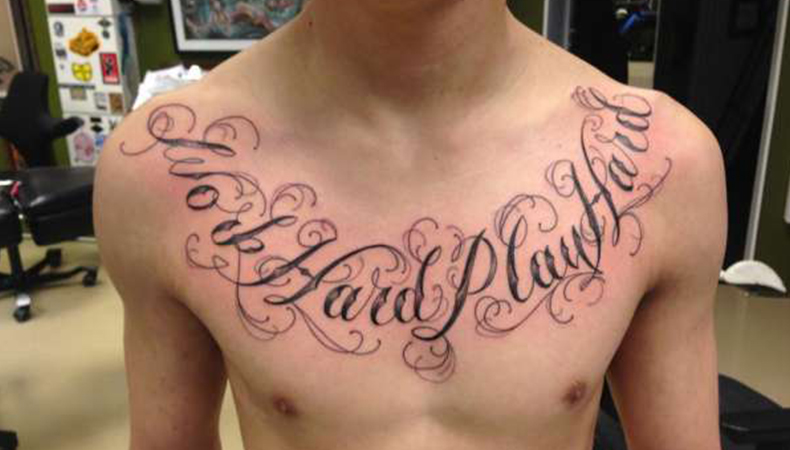 This one looks amazing and the meaning it forms is mesmerizing. The tattoo will be of two words. The main words will be Work Hard. But, when these two words will be read from opposite side they will appear as Play Hard. Isn't it amazing, just flipping the meaning with the words!
11. 'ANGEL DEVIL' on your forearm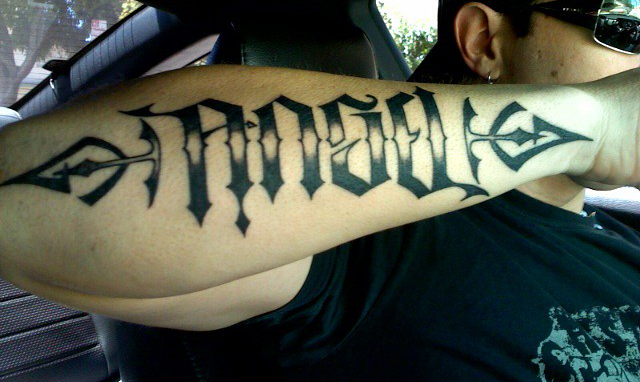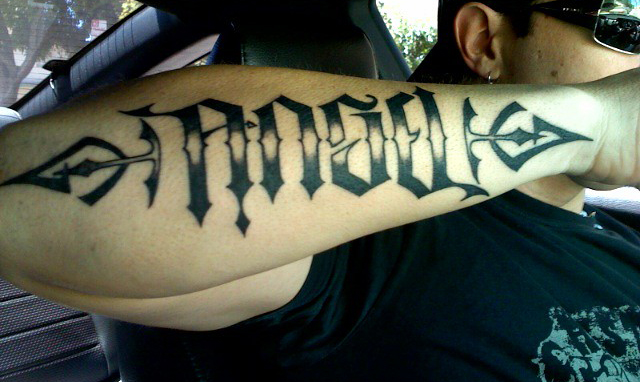 Though it is a common ambigram tattoo design yet it makes for a beautiful tattoo. It will have Angel as the main word. But, when read from behind, the word Devil can be read in the same word. It is a perfect example of one word making two contrasting words.
12. Phrase 'THE WORLD IS MINE TATTOO' on your ribs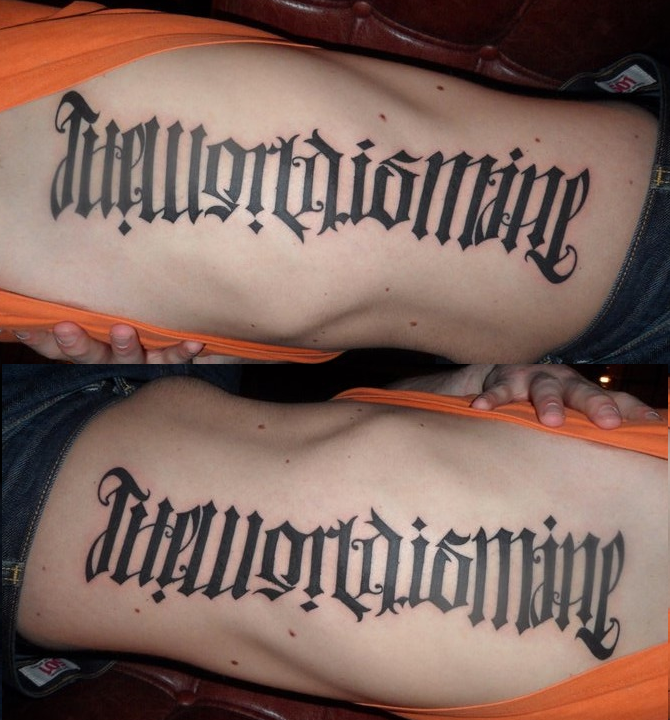 This tattoo can be done either on your rib area or on your forearm, wherever you want it to. The tattoo has phrase "The world is mine," which looks wonderful. It makes an interesting tattoo, as, the tattoo spells the same when viewed upside down.
13. Phrase 'TALE AS OLD AS TIME' on your index finger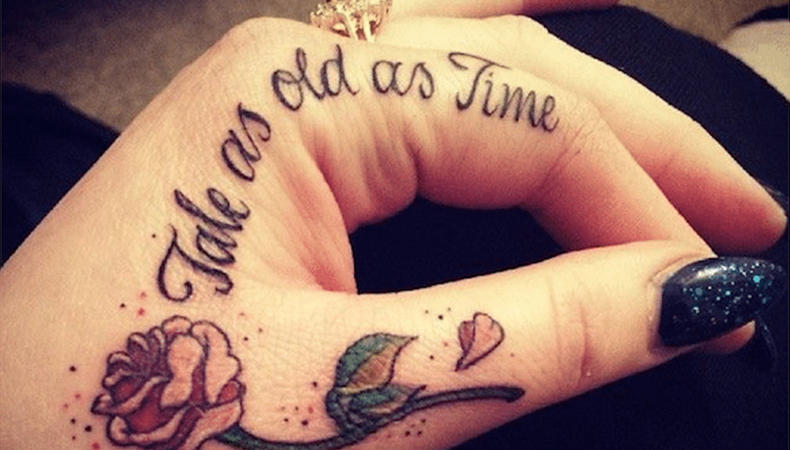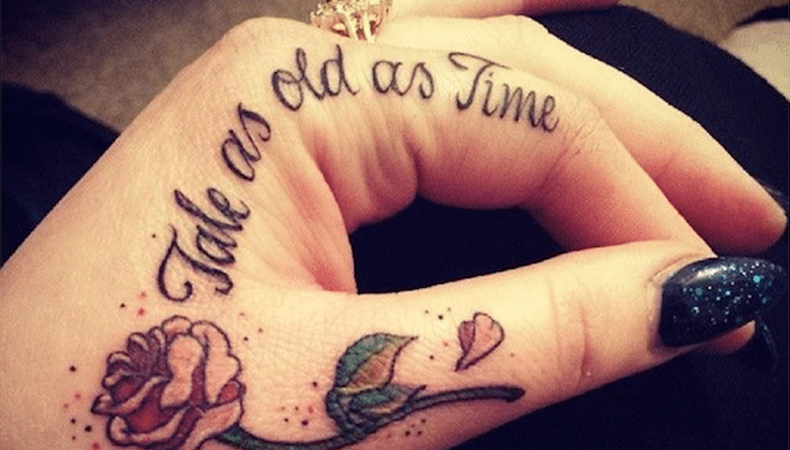 Yea, a tattoo on your index finger will make for a perfect tattoo design, you may even inspire others to get one there. A phrase 'Tale as old as time' which means timeless will look great on your index finger. You can also add a rose or some other delicate element to the tattoo to make it look more creative and enchanting.
14. 'I AM' on your wrist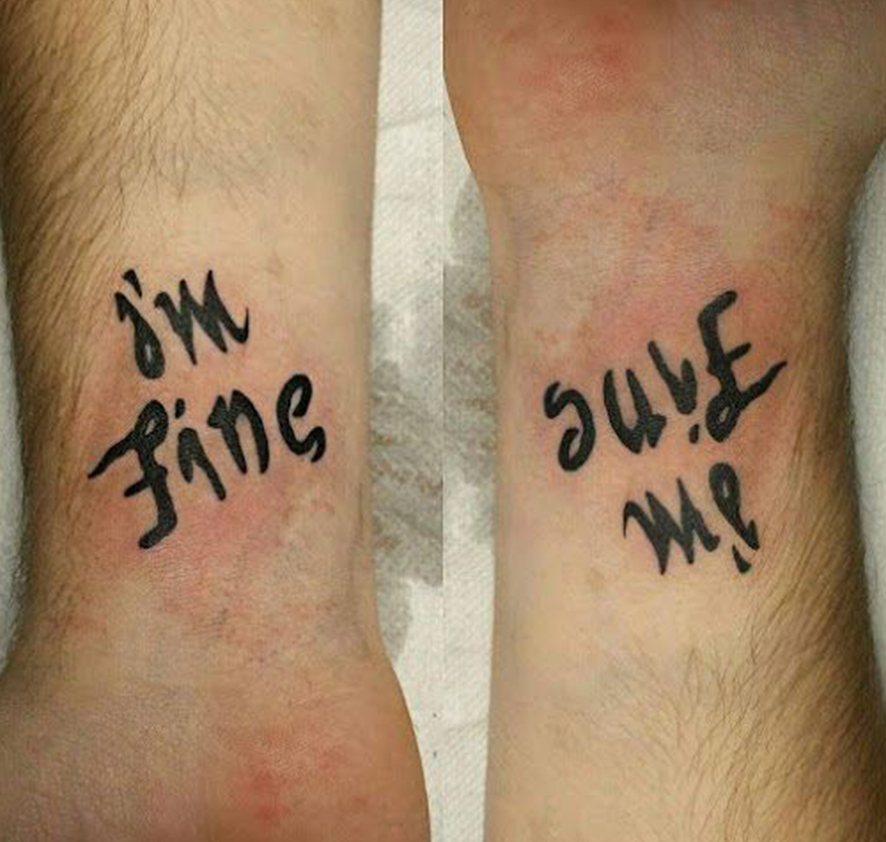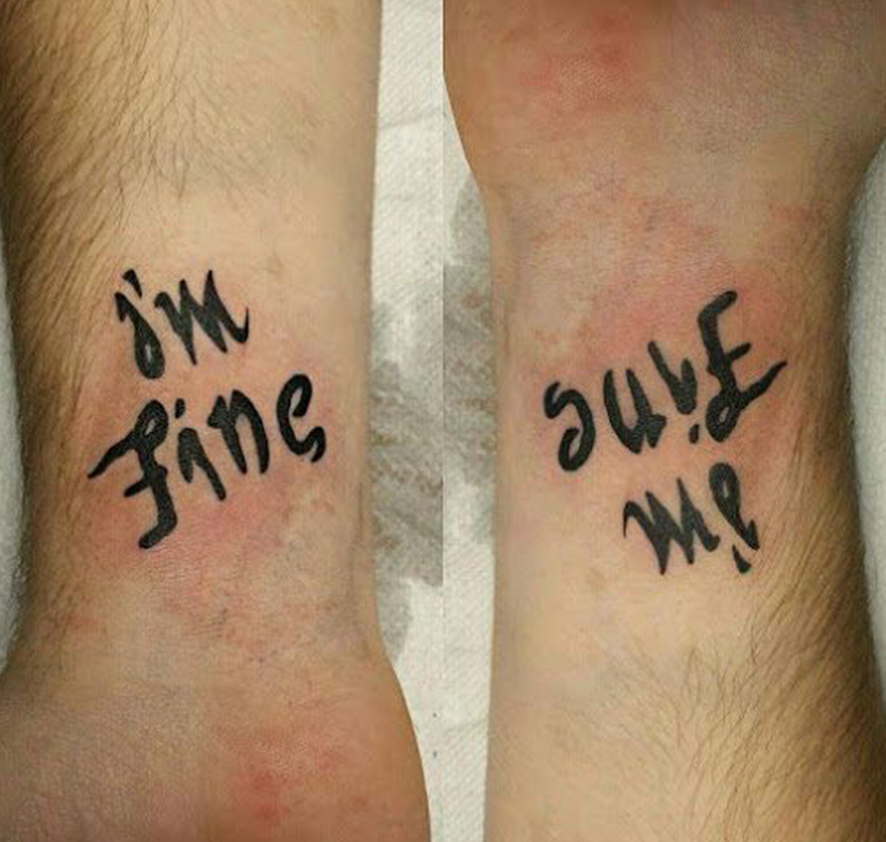 It simply means 'I am everything.' Bollywood actress and miss universe Sushmita Sen has this one on her left wrist, which simply means "I am everything #positive #happy #healthy #inspired #driven #unique #blessed #alive and everything where I need to be". If you also believe the same, get it done!!
15. Latin Phrase 'Soli Deo Glory' on your forearm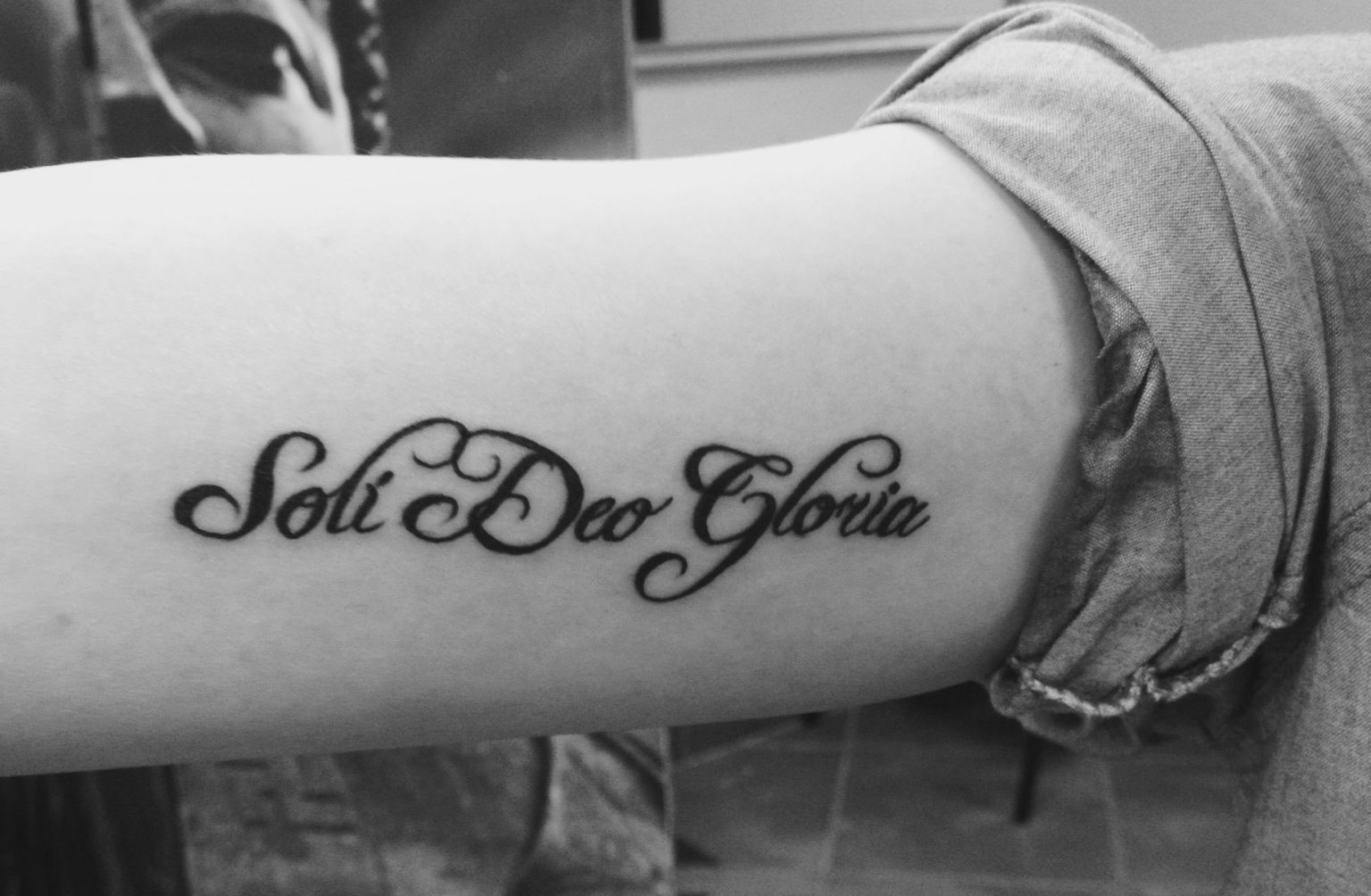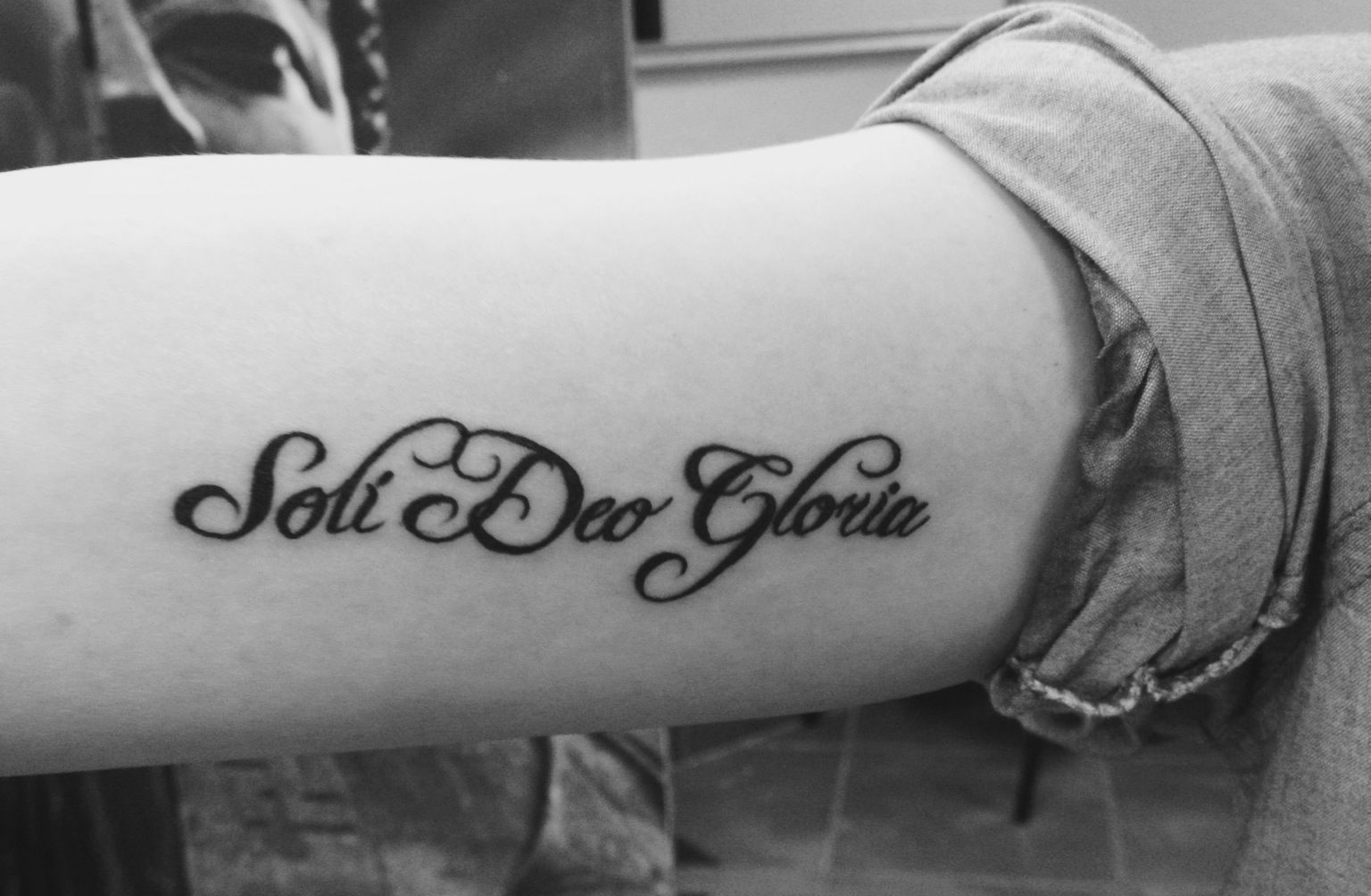 The meaning of this Latin phrase is Glory to God alone. The phrase will look mesmerizing of your forearm. If you also believe in the glory of God then definitely this one is for you. The tattoo will not only look unique, but also will add charm to your beauty.
16. 'GOD' on your wrist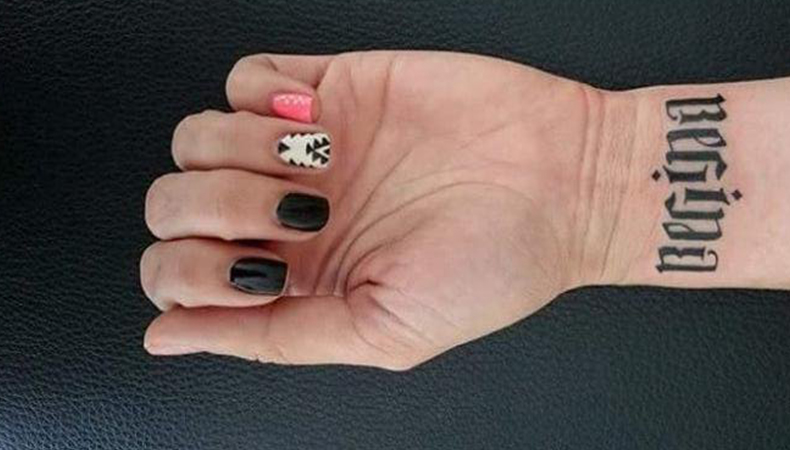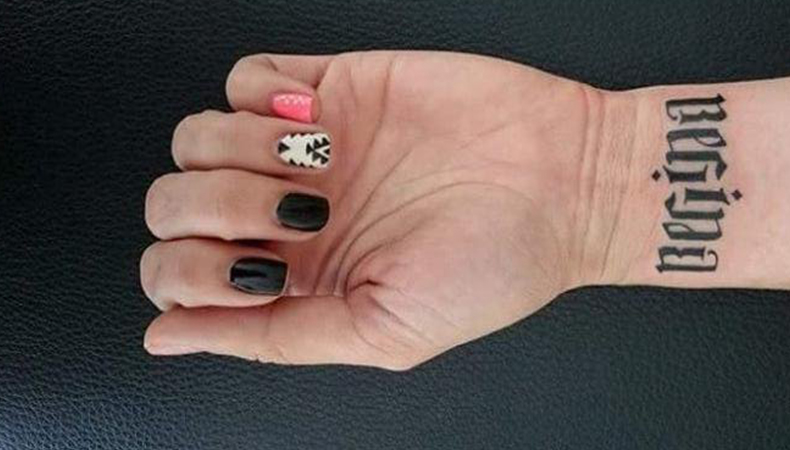 One who is a strong believer of God will only know the real meaning of getting it etched on his/her wrist. You can get this tattoo in any language or any font. As, God is same whether written in English or in Hebrew.
17. 'TEMPTATION' on your forearm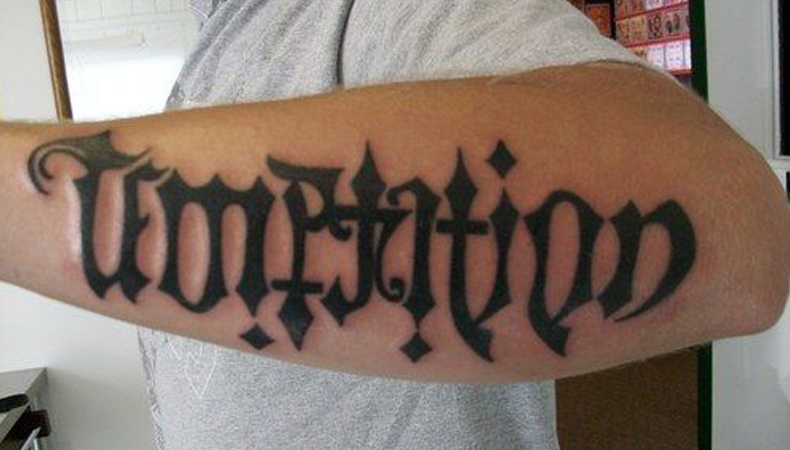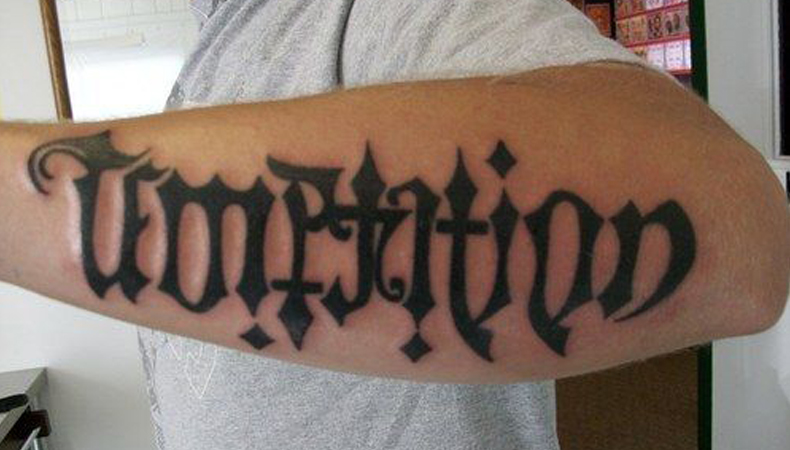 If you have lots of desires and you believe that you will be able to fulfill all of them, then this one is for you. Go and get TEMPTATION etched on your forearm, it will be an eye-catching tattoo.
18. "FRIENDS FOREVER' on your forearm
If you think you are blessed with the most wonderful people on earth as your friends, and if you believe they are more than your family, then this tattoo is for you. Just flaunt your love for your friends, and get this one etched on your forearm.
19. Your loved ones name on your forearm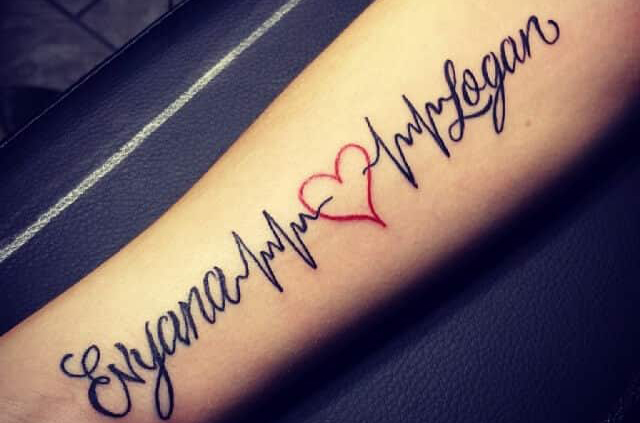 People who love their partners more than anything prefer to go for ambigram tattoo. Just their name etched on their forearm will not only tell about their story, but will also tell about the love and bond they have. If you also love your partner, get his/her name etched.
20. Just the initials on your wrist or on your chest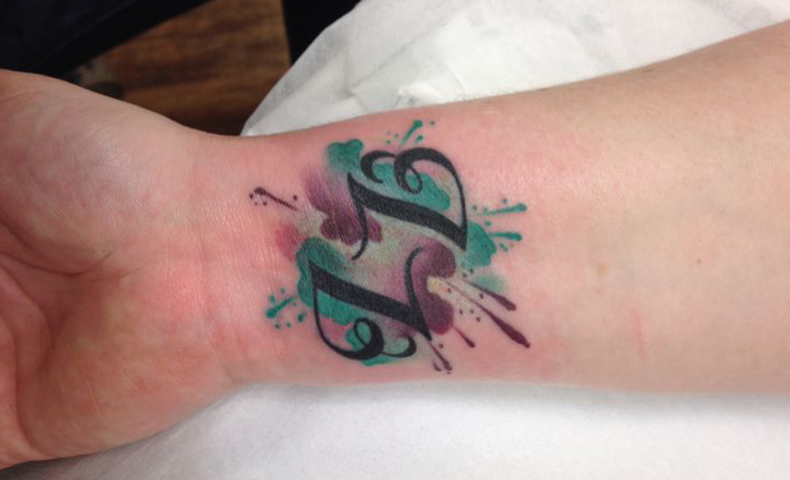 Some people do not go for the complete name, rather they prefer to get the initials of their loved one's name etched on their wrist, chest or neck. If you also want to flaunt your love for your love, get her/his initials etched this time.
21. 'CARPE DIEM' on your forearm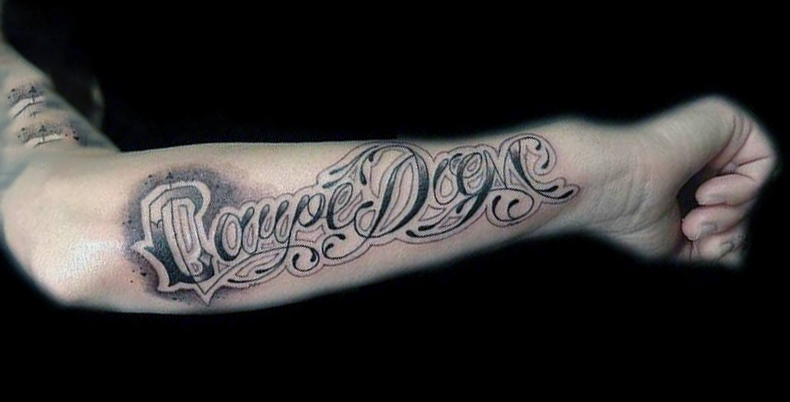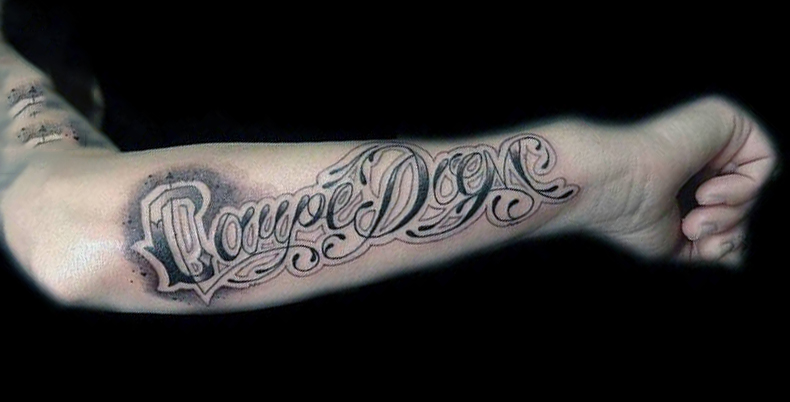 Carpe diem is a Latin phrase, which simply means to be in present. If you think you live in present without worrying much about future, then this tattoo is for you definitely. It is a meaningful phrase, which will just represent your attitude towards life.
22. 'HAKUNA MATATA' on your forearm or ribs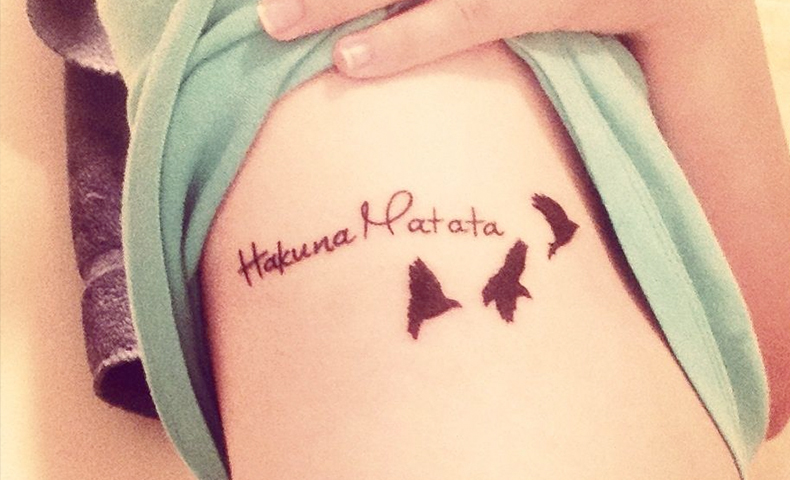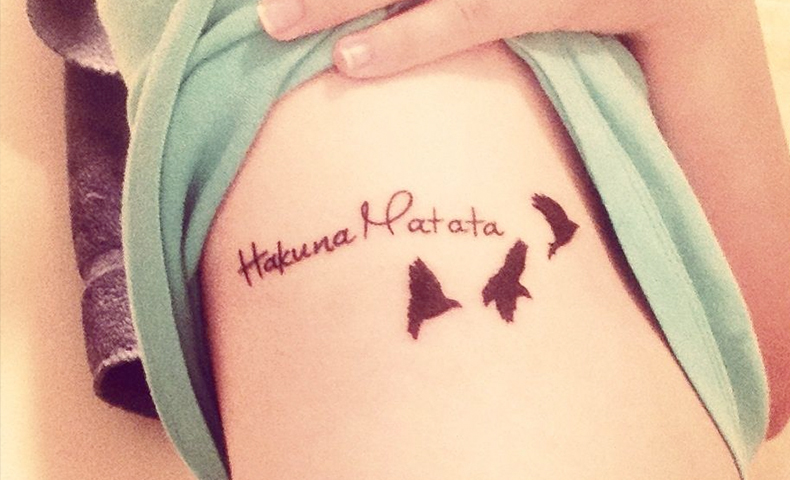 Hakuna Matata is an African saying, which means no worry. If you think you don't worry about things. You have strong detachment and control over your mind, then this is a perfect tattoo design for you. This tattoo will be enough to make people understand about your attitude towards odds in life.
23. "FATHER' on your forearm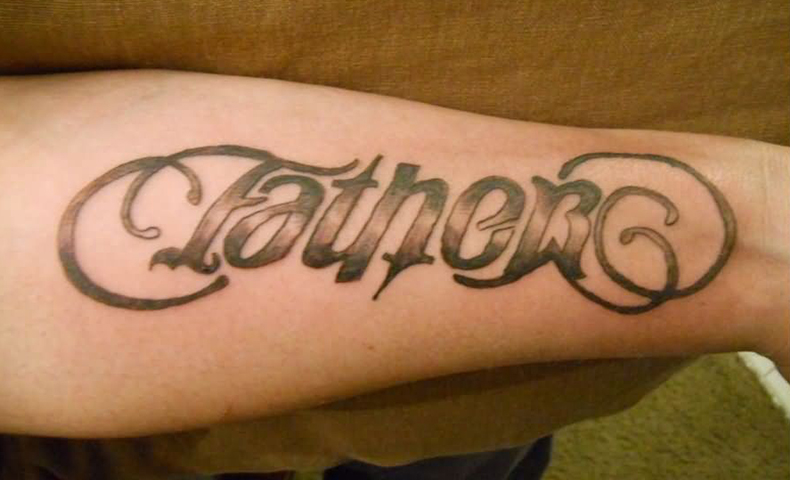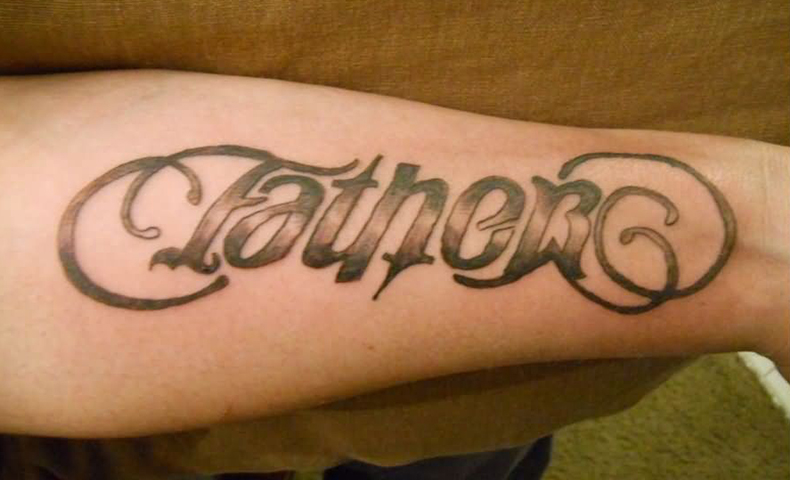 If you love your father more than anything, then you should go for this one. This is for those who love their father, who believe that their father is a super hero for them. Word father is a world, it will help your show your love for your father. You can think of it!
24. 'MOTHER' on your forearm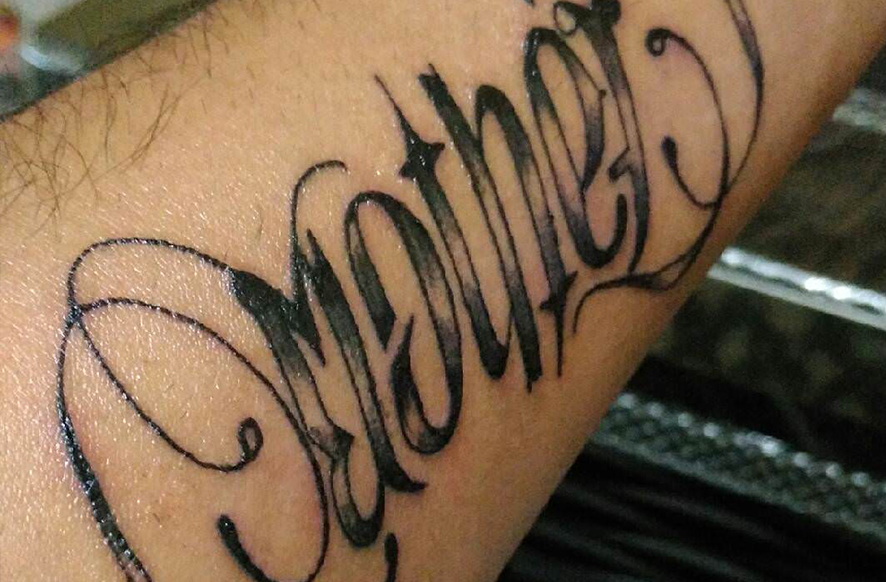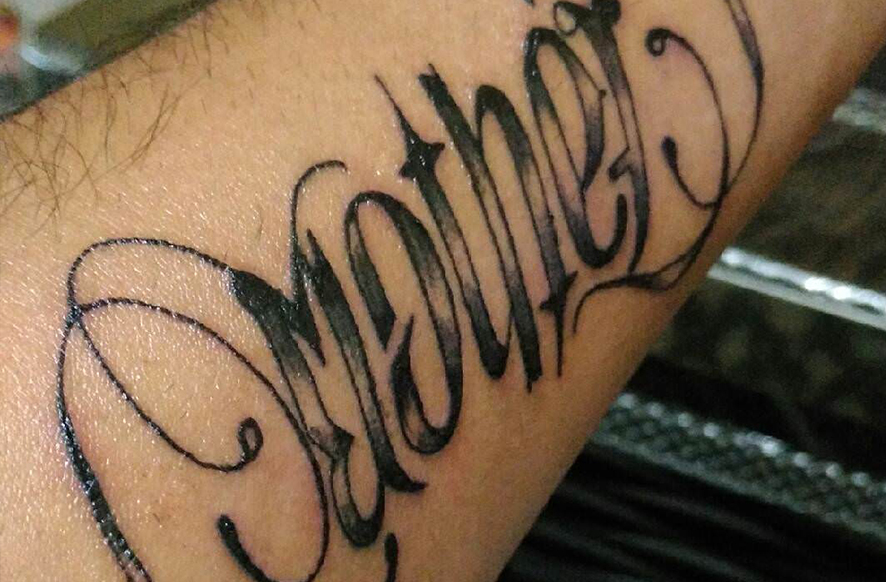 For all those who have immense love for their mothers especially boys. Word mother represents the whole lot of sacrifices, love, affection, and compassion, which a woman goes through all her life for her kids. If you think your mother is everything for you, then this ambigram tattoo is the best way to show your love for your mother.
25. Any motivational quote on your forearm
Ambigram tattoos really look good, and if you are a person who want to have a motivational quote etched on your body, then ambigram is the best way to flaunt your true self to the world via some quote. You can choose any motivational quote and get it done on your forearm.
26. Ambigram tattoo to show your pain
Well, I personally don't like it much. But there are some people who will go for some word like 'PAIN' or some painful phrase like 'love is pain' to show their pain to the ones they got pain from. This specifically happens in case you got a broken heart. If you think that you should go for that, you can, but have faith and things will change. Make your pain a stepping stone to become successful in life.
27. 'DREAMS' on your forearm or wrist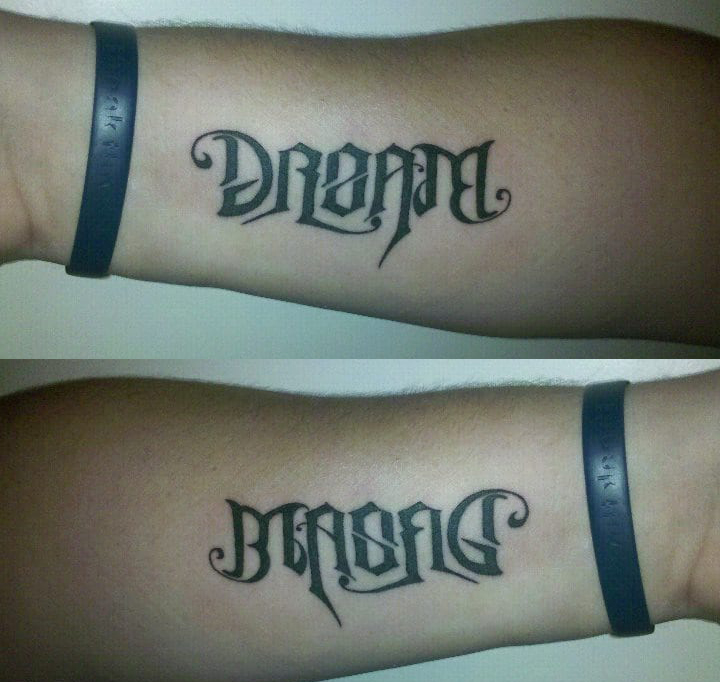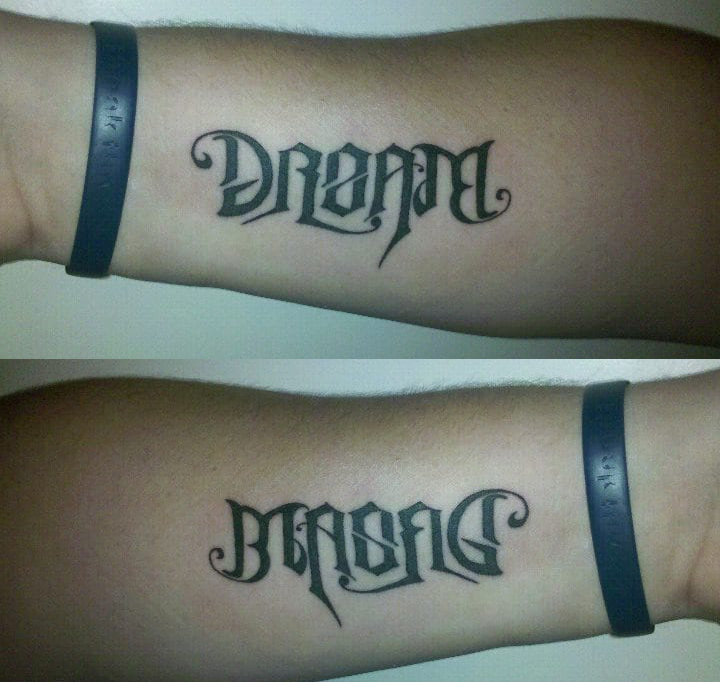 It is for those who believe in their dreams and can do anything to achieve them. You can get this tattoo on your forearm or on your wrist too, based on its size. For instance if you want it in bigger size then the forearm area will be perfect. But if you are looking for something sober and small, then get it on your wrist. Tattoo will look great anyways.
28. 'FRIENDS' on your ribs, or your forearm or your wrist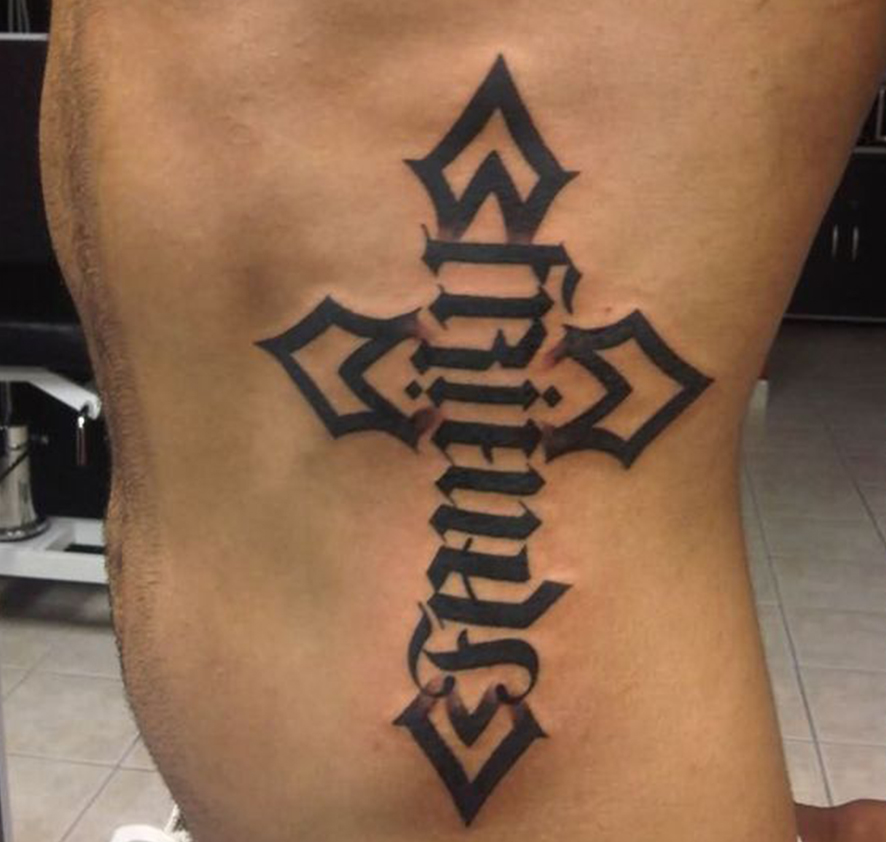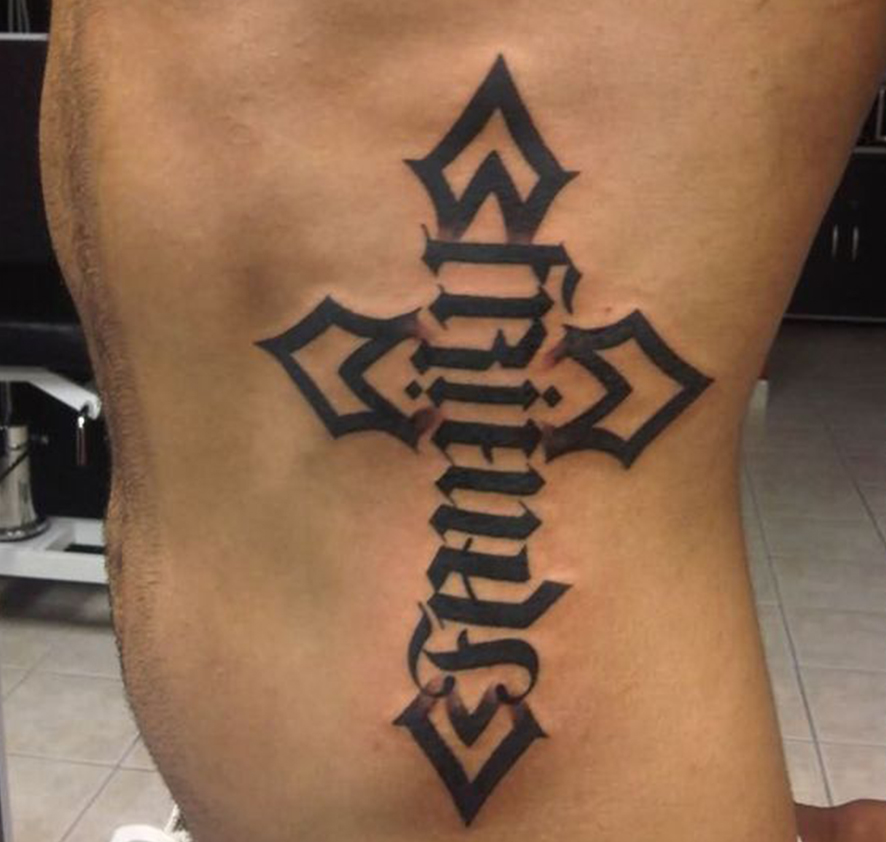 For those who believe in friendship and are blessed with true friends. Word friend shows your love for your friends and your connection with them. If you also have such friends in your life, then they deserve to know how much you love them all. This one you can get either on your forearm, ribs, or on your wrist.
29. 'MUSIC' on your wrist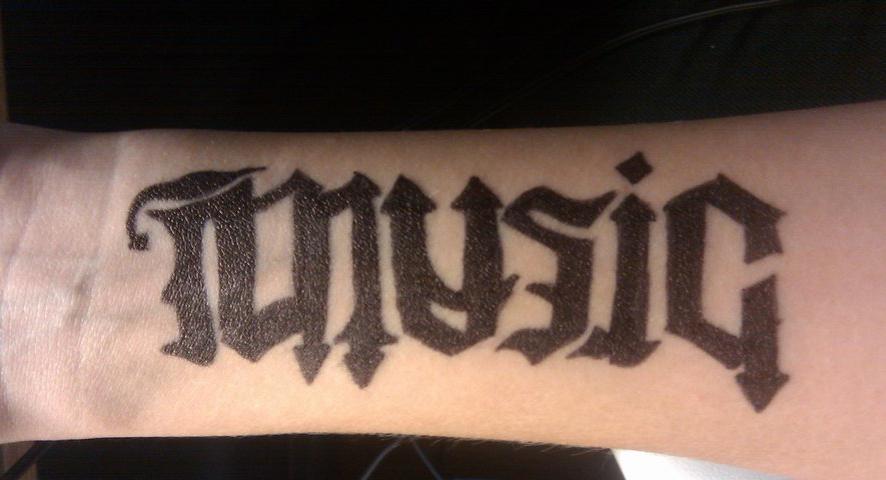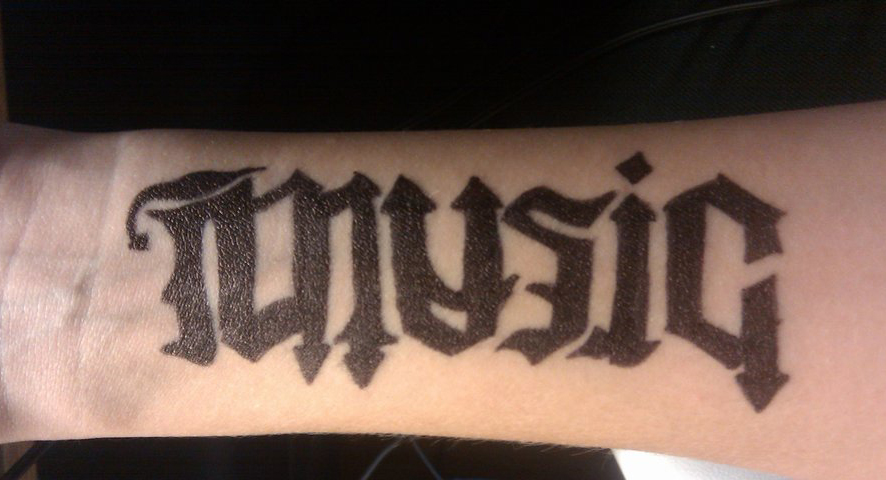 For all the music lovers, this one makes really great tattoo. If you love music and are passionate about music. Get this one!
30. 'BEAUTIFUL DISASTER' on your forearm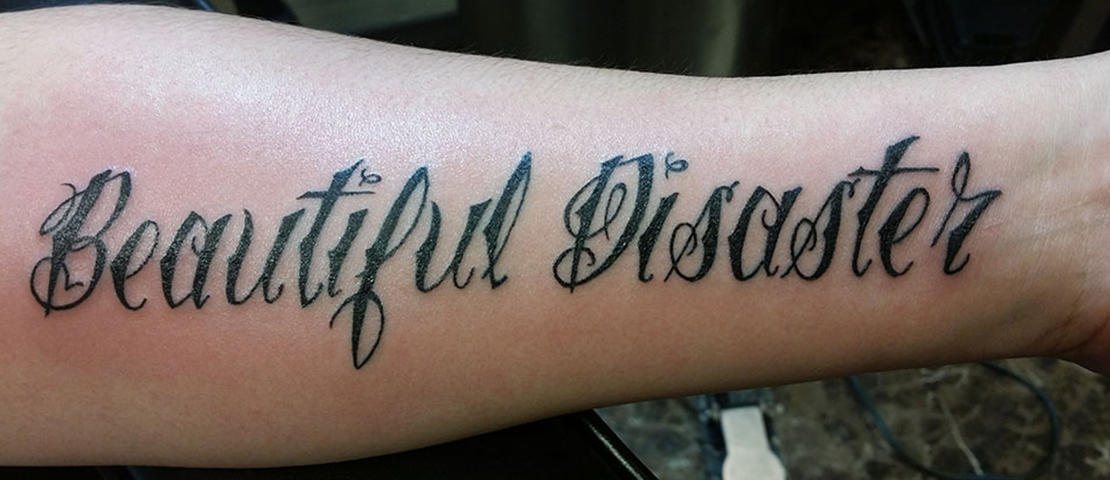 This one is again a word with contrasting meaning. The tattoo looks really great. You can get it done in three ways. One way to get two words in one word. And another option is to get it done in a phrase style on your forearm. And the third option is to get these two words in both your arms (one word each arm).
31. 'TRUST' on your wrist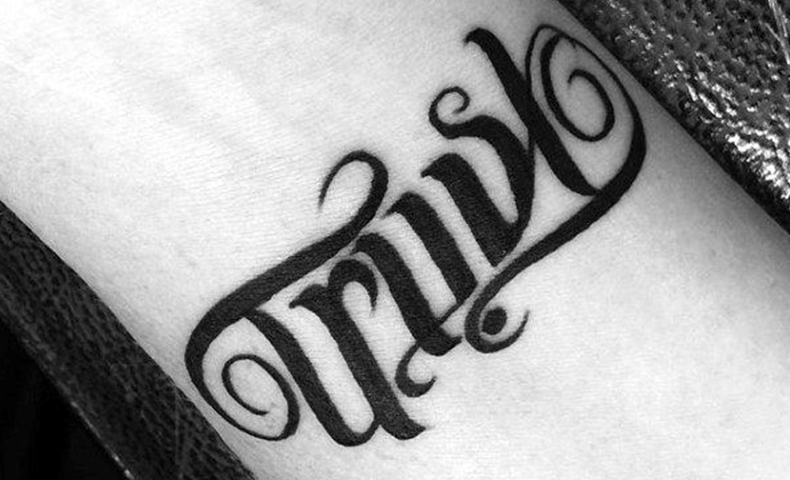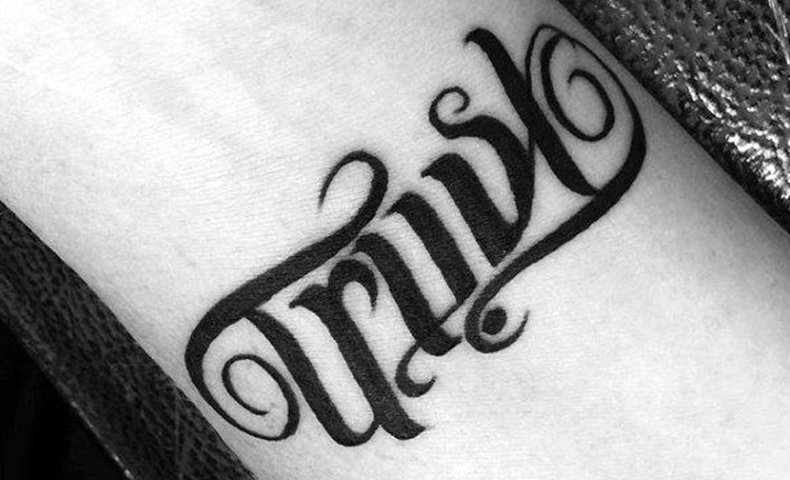 Trust is a very positive word. And if you get it done on your wrist, it will simply represent your attitude towards life and people. People who believe or trust in positives even after going through tough times, can get this one to show their positive attitude towards life.
Final words…..
I hope the list of these 31 best ambigram tattoos help you decide your tattoo design. These simple yet beautiful ambigram tattoos you can get anytime. Besides, there are many other ambigram tattoo designs which you can placed on your chest, neck, arms, fingers, etc. However, ambigram tattoos really make for creative tattoo designs, if you think you are creative than you are absolutely free to create your own ambigram tattoo design and get it done via tattooist of your choice.
Well, while going for a tattoo make sure the tattoo parlor you are going to get your tattoo uses sterilized needles and has good reviews. Know about the parlor well in advance before you finally step in there. Because once you will get it and if you will find it dissatisfactory then removing it will be very difficult. So, it is good to go for a tattooist who is expert especially when you go for an ambigram tattoo.
Also, it is essential that you decide your ambigram tattoo design and its placement before you step in to your tattoo parlor. Ambigram tattoos look good, charming, and cute. All they need is a creative mind and desire to get something unique.
Keep tattooing…. Happy tattooing….. ☺ ☺