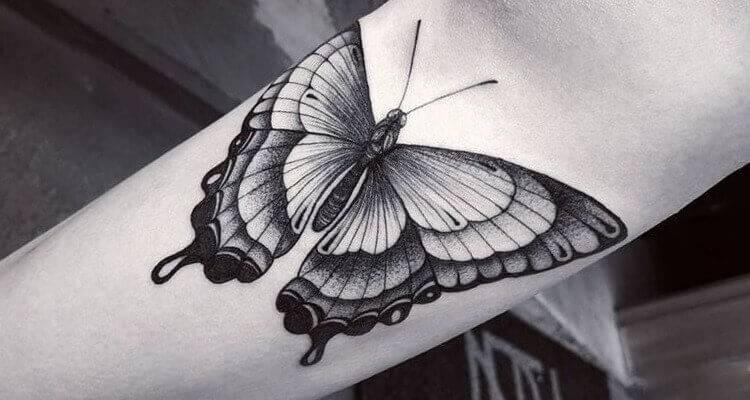 75 Butterfly Tattoo Ideas and Designs
Posted on
Getting inked these days is becoming a wildly followed trend amongst young. See around, you will find so many teenagers with one or even more tattoos flaunting their real-self.There are myriads of options when it comes to getting a tattoo. You can opt from some sacred symbol to any quote, anything which suits your overall personality. There are people who love to get inked with some bold patterns, not just that some even get themselves inked with a skull, however, some love very sober or pretty designs and so they choose go for a permanent butterfly tattoo on their body.
Like other tattoo designs or patterns, butterfly tattoos also describe one's soft and elegant side. Therefore, most women prefer to go for a butterfly tattoo. Also, there are plenty of excellent butterfly tattoo designs to opt from. In fact butterfly tattoos for men are very much in trend because of its versatility.
You can find simple butterfly tattoo designs and even butterflies with intricate designs. The primary reason people get attracted to butterfly tattoo is because of the cute and delicate deigns which can come up from this beautiful insect, and mostly butterfly tattoos look great. This colorful creature represents human transformation as well, and that is why it is considered as one of the most beautiful tattoo idea.
Well, if you are planning to get a tattoo this season, then our suggestion for you is to opt for a temporary butterfly tattoo first before going for the permanent one. Upon doing this, you will have a clear idea of how will your tattoo look finally. For that, all you need to do is to spend some time searching for what shape, size, and color you would want along with which part of the body. Also, directly going for the permanent tattoo is not a smart idea as getting rid of the permanent tattoo is not that easy task.
How much is a small butterfly tattoo?
A dainty butterfly tattoo, commonly found on the wrist, lower back and ankle, can come in a wide range of sizes, colors, and shapes.
There are no standard rates. Depending on where you go and how clean and professional the environment, you can pay a wide range of prices.
Come to the point….
On the wrist or ankle, an averagely sized butterfly tattoo can cost $50 to $200, while a larger than average sized butterfly tattoo can cost upwards of $200 to $500 if it were to take up the entire lower back.
Why Most of the Women Prefer Butterfly Tattoos
You may find some men also having a butterfly tattoo still butterfly tattoos are considered to be feminine thing. The fact remains that most butterfly tattoo designs and patterns look amazingly beautiful on specific body parts of women such as wrists, neck, thigh, ankles, and arms. Having a delicate butterfly tattoo on the nape of side of the neck or ankle enhances overall beauty and looks fashionable.
That is the reason why most women prefer to get a butterfly tattoo. Also, another reason behind having a dainty butterfly tattoo is most workplaces do not welcome bold or gothic tattoos, in all. So, going for a cute, delicate, and colorful butterfly tattoo design is like playing safe in this context as well.
Butterfly Tattoo Designs on the Body Parts
Tattoo usually looks attractive if it is placed on the right body part. For an example, there are various tattooists who recommend getting a small butterfly tattoo on wrists, ankles, neck, and feet, and also looks beautiful butterfly hand tattoo. Whereas, the large butterfly tattoos like Celtic and tribal butterflies they recommend for your back. And then a fantastic scrolling butterfly scene can be placed on your arms, sides of the torso or legs simply because these butterfly tattoo designs goes well on more extended body parts like such.
Then there are mid-sized tattoos designs, which appear great on upper arms and shoulders. So, there are many body parts where you can get your butterfly tattoo depending upon the size, shape, and color of the tattoo. However, it is always a good idea to decide beforehand what sort of tattoo would go well and the part of the body you are planning to get tattoo done.
Here in this article we are sharing 75 Amazing Butterfly Tattoos, which will stun you. All of these tattoo designs will help you choose a butterfly tattoo design for your own self. However, Butterfly tattoos are very common but still tattooists make such a normal tattoo into a splendid piece. Butterflies tattoos are small, cute, and pretty.
Here are the ideas for butterfly tattoos:
1. A modern butterfly tattoo 
A modern butterfly is a broken butterfly that is broken, but yet it looks like flying. In the design you will find butterfly with dramatic colors torn wings. You will find a lot of asymmetry in this tattoo especially. The butterfly seems to be in the middle of a lot of confusion in between all the contrasting colors. And the tattoo on chest will probably get a lot of attention. The best part of Butterfly tattoos is, they come in all shapes and sizes.
2. A butterfly with a chandelier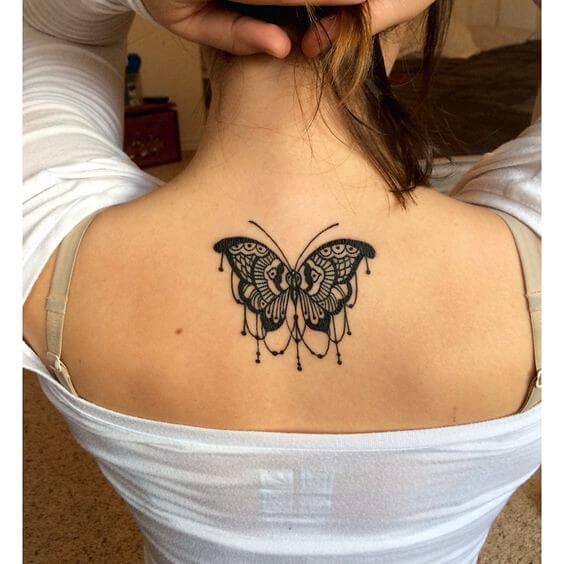 A butterfly with chandelier is such a gorgeous tattoo! The tattoo will have a butterfly on a chandelier, or a cage.
3. Manly butterfly tattoos on chest
This is going to be a large tattoo and it will cover the chest leaving the buttons. A butterfly on a man however is rarely seen. Bigger size tattoo on man will appear like moth, so it's not typically a feminine design. You will rarely see a butterfly tattoo so big – as majority of butterfly tattoos are made in smaller sizes. It fits on man's chest if it is not so heavy.
See More: Chest Tattoo Designs
4. A white butterfly on the shoulder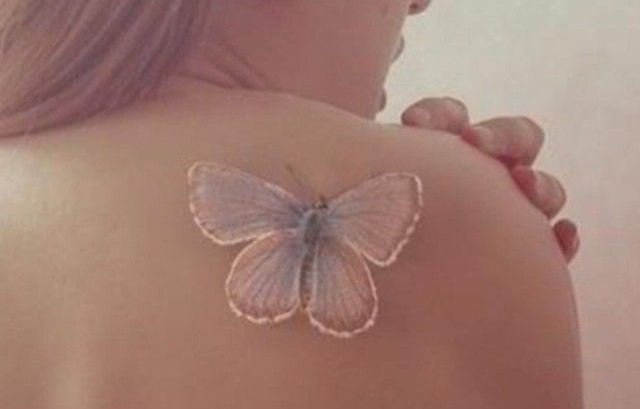 White tattoos are rarely seen as usually people go for the darker shades. Yet, white tattoo looks pretty on the shoulder especially when it is well-made. If you will notice, you will find the delicate white wings of the butterfly are made to highlight its fragility. White butterfly tattoos are very much feminine and look striking on dark skin tone.
5. The three butterflies in descending order of their size on wrist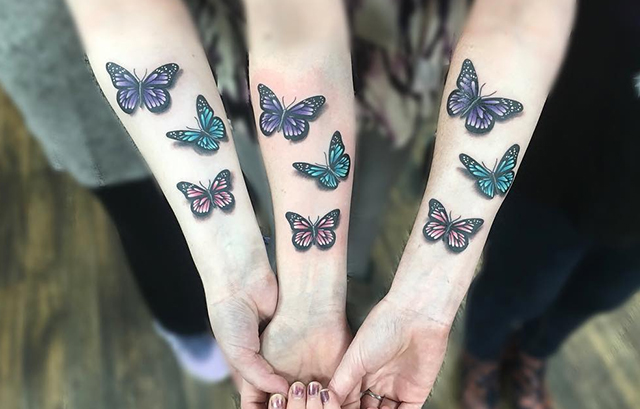 However, the three butterflies in descending order or the shadow butterflies is the most common tattoo which you will see. This one is much girlie in nature. Group of girls hand tattoo go with matching tattoos just to show off their inseparable friendship or family bond. This we feel is the greatest way to stay and feel united and show your bond to the world. No matter how common it is still the style of this tattoos is gorgeous. Especially having the silhouettes of the butterflies rather than having a more complicated design makes the tattoo more of a statement and gets people to think about it.
6. Butterflies in a mandala on back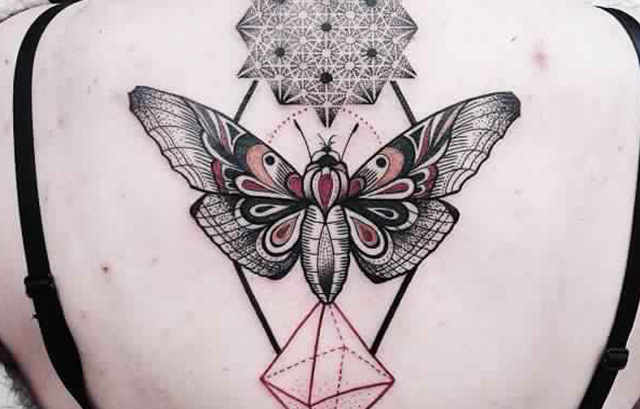 Too many butterflies clubbed in a way they make a beautiful intricate designs looks really amazing all in all. In this tattoo you can have a butterfly either flying away or it's flying into the mandala. Either way, it will look beautiful in any case. The design looks detailed and gorgeous on the back butterfly tattoo, and this one specifically has irregularities in the mandala design which differentiates it from other mandala tattoos.
7. Butterflies on a sleeve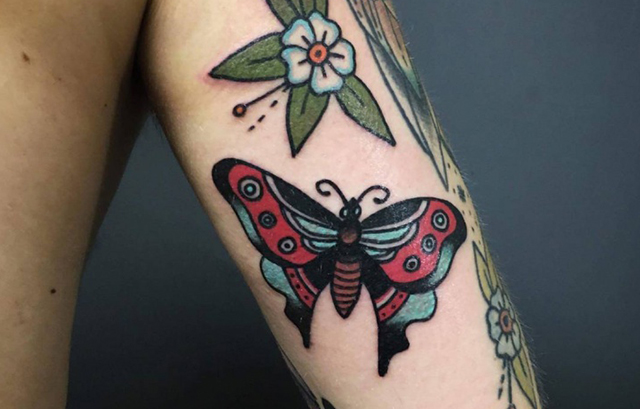 Sleeve tattoos look beautiful with the butterfly on it. Especially camouflaged with roses and butterflies. Butterflies are pretty traditional styles and make a typical tattoo, but when they are on sleeves they look amazingly beautiful. People can have just butterflies or to make it look more beautiful the butterfly can be combined with amazing flowers for a right or left arm sleeve, wherever you want it to be. Also, most women get them done in color in painting-like style, which adds a little more detail and freshness to the tattoo.
8. A colorful butterfly tattoo on the neck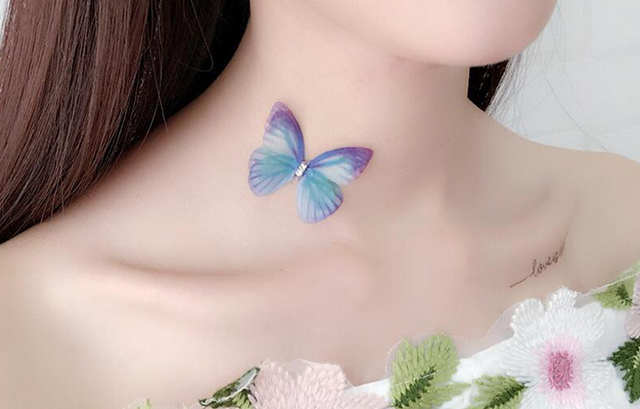 Colors and butterflies go hand in hand. Hardly any butterfly would you have seen which has no color. So, to make a colorful butterfly tattoo you don't have to think too much of colors because mostly butterflies have beautiful colors in itself, otherwise an artist knows how to play around with colors to make it look more colorful and beautiful. Tattooist are good at using incredible colors, giving your tattoo almost a tribal touch with lots of colors and design. The size will not be very big as it is on the neck, will give your neck a gorgeous detail. And if the skin is fair enough the bright colors will surely stand out.
9. Tribal style butterfly on left shoulder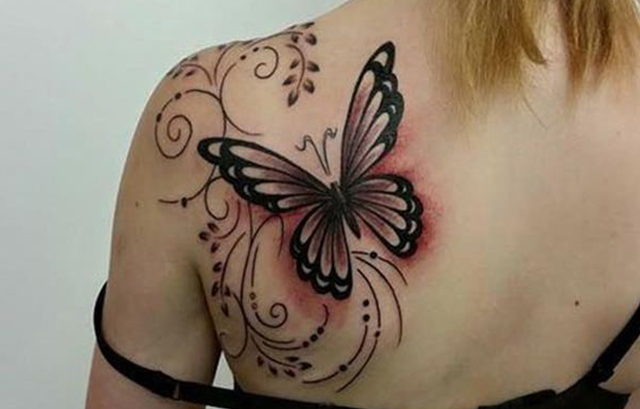 A tribal style butterfly tattoo looks simple yet beautiful and it can work as a jewel in your body. This tattoo is an amazing way to flaunt your tattoo for a party or special occasion. It works as jewelry on your skin. With a backless or off shoulder dress it will look amazing and will give your skin art much deserved attention and admiration besides adding a special touch to your party look.
10. Symmetrical tattoos on thighs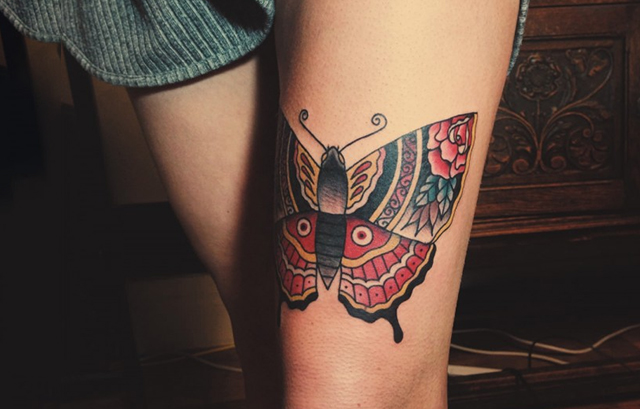 Yeah thighs, people go for symmetrical tattoos on their thighs and they look beautiful too. You will have different in each thigh simply breaking the symmetry. These tattoos look playful when you wear short dresses. Otherwise you can have these tattoos on other parts of the body as well. Very much feminine design that highlights the choice of placement on the body.
See More: Thigh Tattoo Designs
11. Butterfly frame on thigh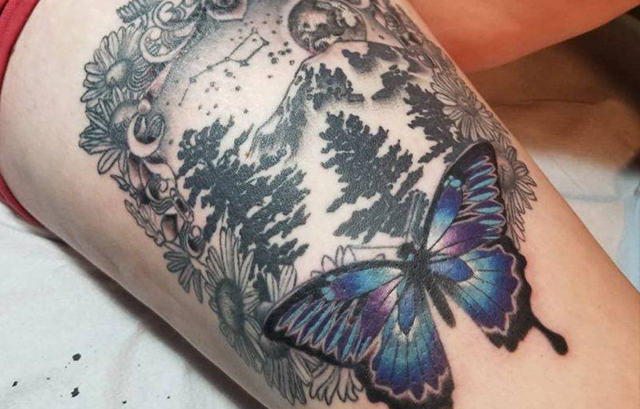 Once again a tattoo on your thigh but this time only on one, which ever you want. Butterfly frame will be an asymmetric leg tattoo which looks is pretty interesting. It will have various elements like the moon, the landscape, the trees, the leaves and the butterfly, making the entire tattoo look like a beautiful scenery. It is done in black with shades. However, the butterfly is added to close the frame which will appear like breaking the symmetry a bit. Altogether, this tattoo looks a bit uncanny but all in all gorgeous.
12. Geometric moth on the chest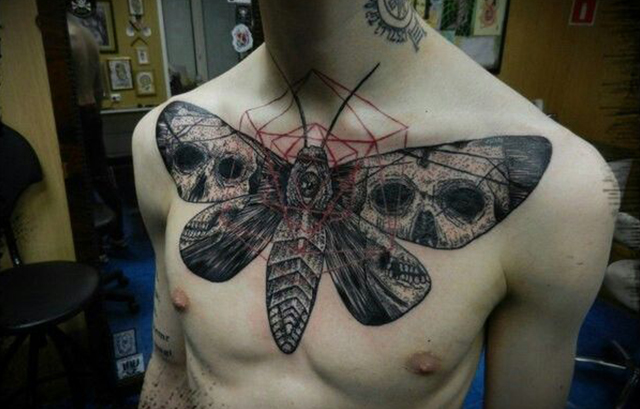 When you combine geometry with the drawing a geometric moth comes out☺. This is very modern style of tattoo has geometrical pattern on the background and it is made in incredible point work. The whole tattoo looks clean and geometrical.
13. Realistic moth butterfly tattoos on upper back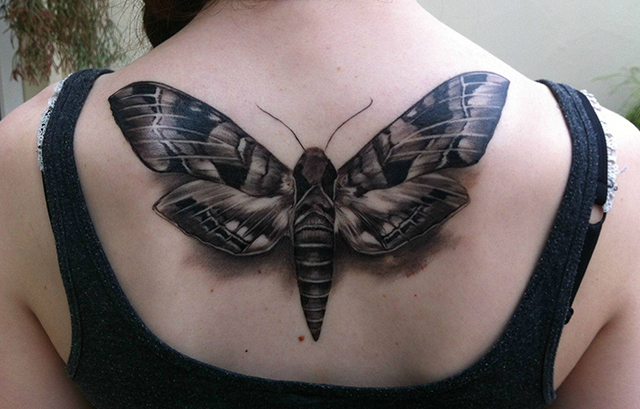 You can also call it a 3D tattoo. Your tattoo will have all the attention from around. The folds on the wings, along with the lace-like wings – everything will give detail to your tattoo. It will appear like a giant moth is crawling on your upper back, amazing.
14. Music and butterflies on your back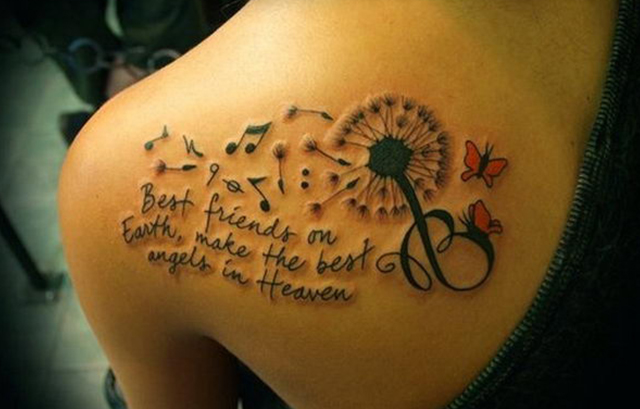 This tattoo will have music symbols along with the butterflies flying on your back (not literally flying of course ☺ ). Very melodious kind of tattoo. The flying butterflies across your back will appear like a melody. This will be a big tattoo that will cover almost the entire back of yours. Make sure you wear backless dresses sometimes otherwise what is the point taking so much pain for the tattoo and getting no chance to show it off.
15. Painting-like sleeve with butterflies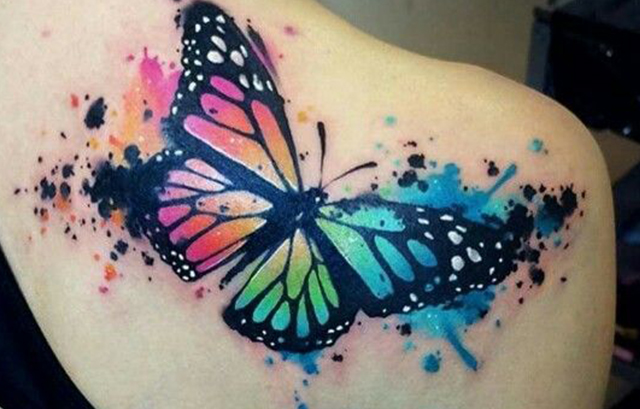 How about having your entire sleeve painted with butterflies? In this tattoo you will have a modern painting-style sleeve with butterflies and a peacock on it. If you are fond of having colorful tattoos all over your sleeves than this one is for you.
See More: Colorful Tattoos
16. Giant butterflies on your back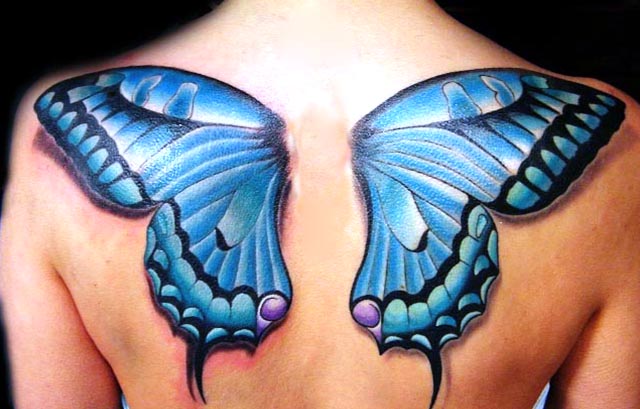 This tattoo will have many butterflies on your back placed in different positions on the entire back. The butterflies will vary in their sizes. Some will be big and some smaller. But all in all look impressive. The color combination used on tattoos will make them look realistic and actual. Especially meant for the girls with curvy figure and who are not going to put on weight any sooner.
17. Wrist small butterfly tattoo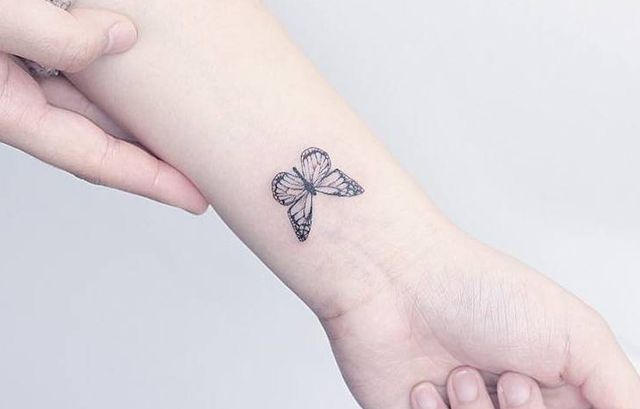 Butterflies on the wrist will be small in size, with a lot of details making them unique. Butterfly tattoo wrist on forearm, these butterflies are mostly done in black while featuring the black parts of the butterfly only, this tattoo look delicate and delicate. This tattoo is very much feminine and adds details to the wrist. It looks super cool when nail paint is also applied.
18. Colorful butterflies on your back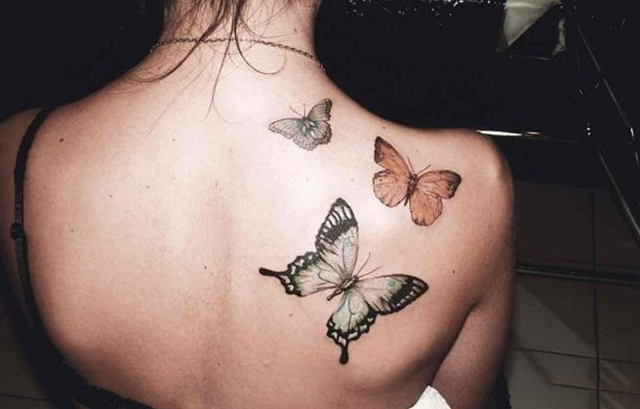 This tattoo will have a butterfly along with the branches in it. The tattoo will contain Asian-style colors which will make it look like no less than a beautiful and colorful painting on your back.
19. Roses combined with butterflies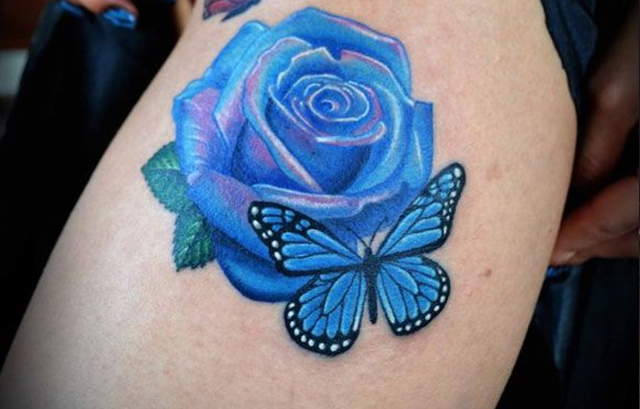 A big rose with buds and leaves in it along with butterflies on the roses will depict a perfect flower painting on your back. This tattoo will have details, the size of the rose will be big and the colors used will be more clear, making it realistic.
Also See:
20. Butterflies spiraling on your back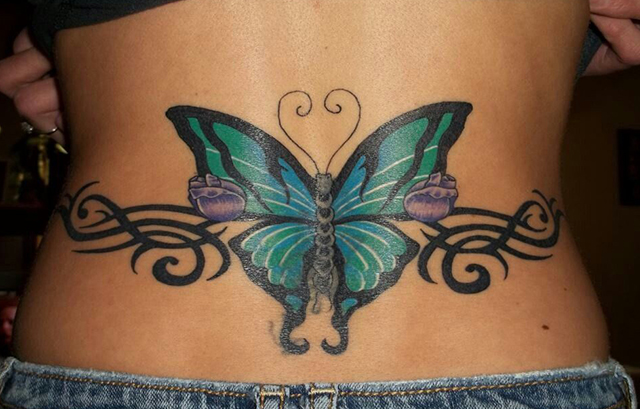 This is somewhat modern version of the previous tattoo. The tattoo all in all looks refreshing and mesmerizing. Giving depth with butterflies at the front, and more blurred roses on the background, which will create an illusion of spiral movement on the background. People will surely admire you for having such a beautiful design on your upper back!
21. Butterfly tattoos on Leg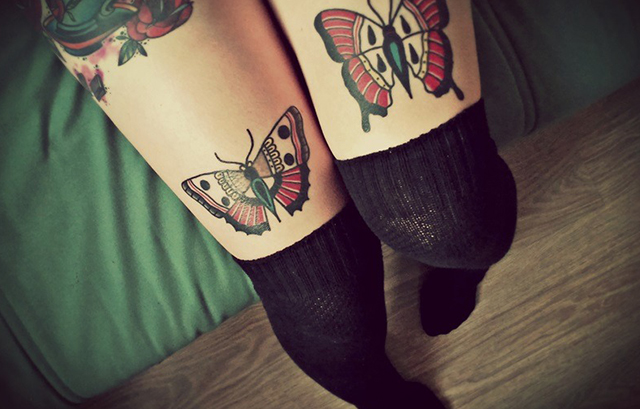 A beautiful tattoo with hues of black, red, grey and yellow just on your leg will look amazingly enchanting. Even people won't be able to resist themselves to see it again and again. This one really looks great if you wear skirts or dresses till knee length. Just that tattoo will add detail to your overall look.
22. Butterfly tree on your back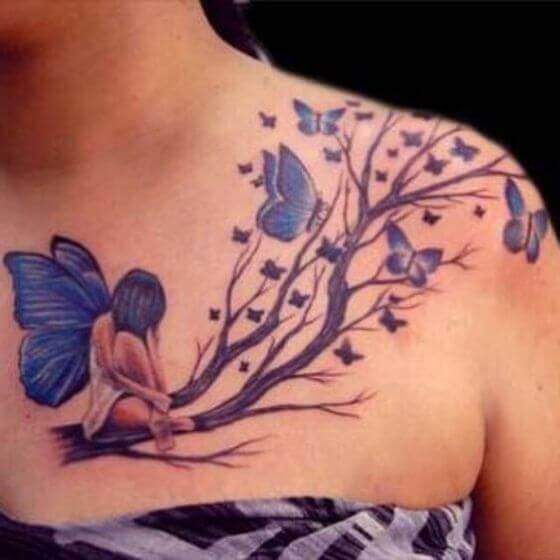 Have you even imagined how a butterfly tree would look on your back? If you have any doubt about it then believe you me, it will look wonderful. Butterfly tree with beautiful colorful butterflies and branches covering maximum of your back from down towards shoulder.
23. Butterfly with a face on arm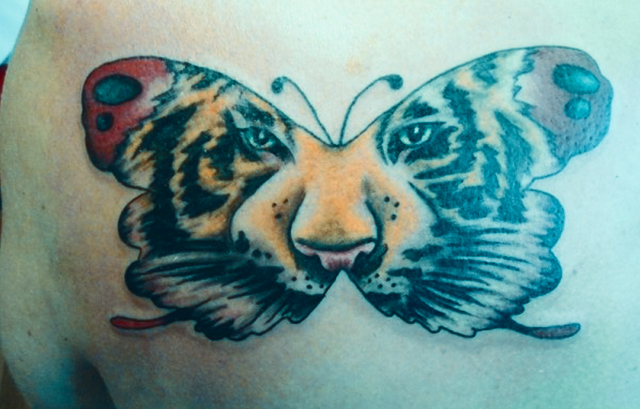 If you are amongst cat lovers than having both the creatures cat and butterfly in beautiful hues of blue, red and yellow will make a great tattoo on your arm, which ever arm you want to get inked on. This one is lovely and very impressive as cat's only face will come and butterfly sort of teasing on its nose… It will be cute.
24. Symmetrical Dark Butterflies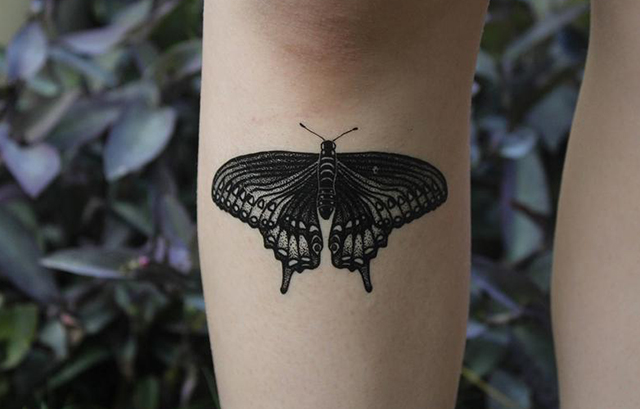 Having symmetrical butterflies on both your legs from toe to knee will have dark black color with skeleton made on knee and above that butterflies flying, will leave everyone stunned. Though this one look a bit scary, not everybody will go for it as it seems a little messy too.
25. Butterfly Tattoo in green and yellow with a flower on top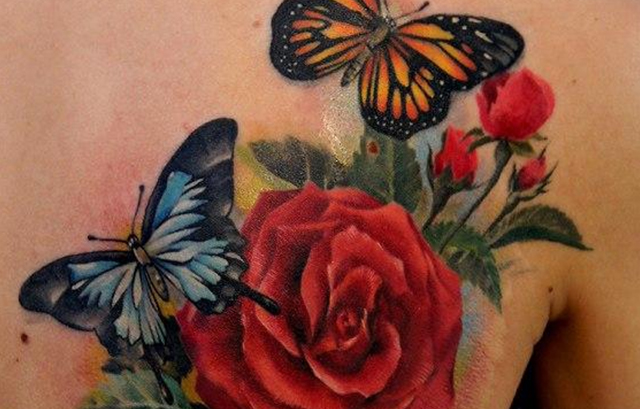 A butterfly flying just above your knee in green and yellow color and on top of that is a matching flower, the tattoo is medium in size and look beautiful…
26. Symmetrical moths tattoo on legs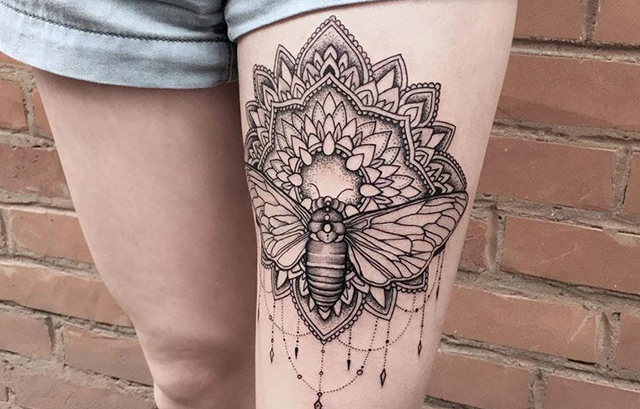 Another symmetrical leg tattoo is moth with personalized text on it. Light colors are used in such tattoos and the prominent is the text with the butterflies which makes the difference all in all. The shape of the butterflies on both legs will match. Text you can choose of your choice… just make sure that it is not too long as it won't synchronize with butterflies then.
See More: Leg Tattoo Ideas 2020
27. Regular and shadowy butterflies in an evil black swirl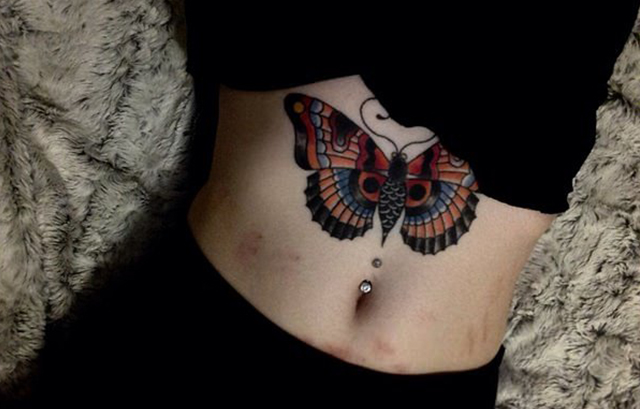 Look dramatic though. This one you can get done on your side belly it goes upwards towards your chest. The tattoo features regular and shadowy butterflies in an evil black swirl, few of them will appear as if leaking color. It more or less symbolizes light and dark or good and evil side of a person.
28. Colorful butterflies on arm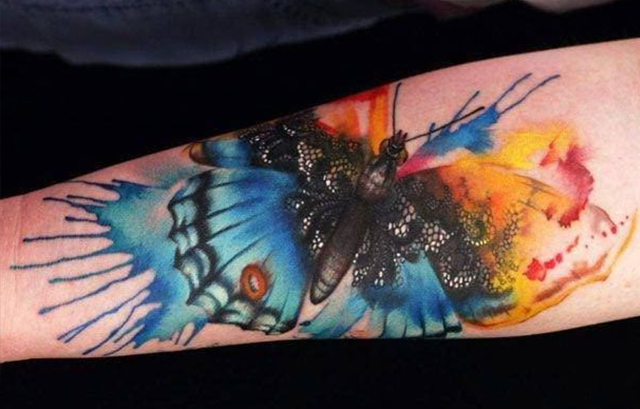 Very girlie though, there would three to four butterflies on your arm and all in different colors. Like one in blue, another in yellow, and likewise. Very detailed tattoo which really looks good on arm specifically on fair colored arms. The whole tattoo will appear like a free hand painting on arm.
29. Huge butterfly covering entire back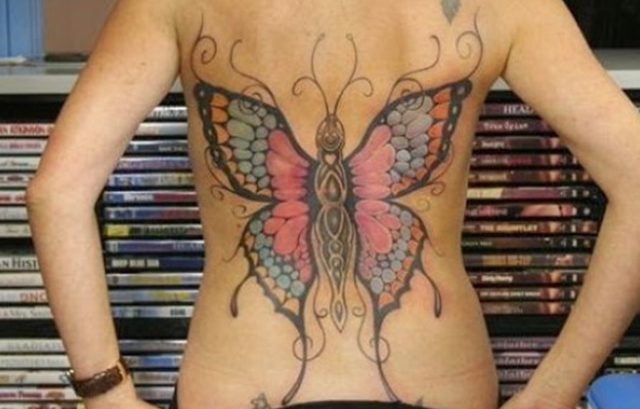 This one is going to be a large tattoo which will cover your entire back. It will look gorgeous as the design is very beautiful as if a giant butterfly hugging you from back.
30. Moth combined with squares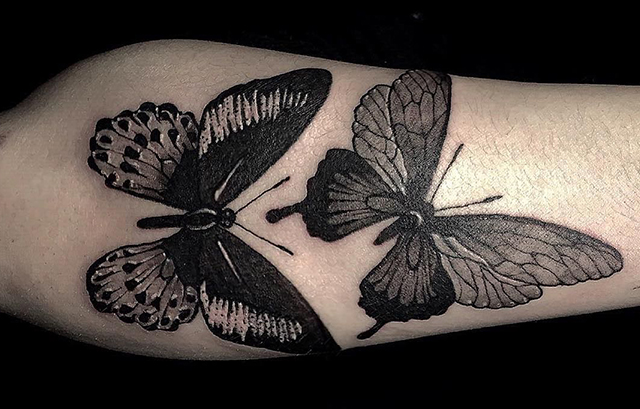 Once again the next design is a combination of geometry with butterflies, which looks modern yet beautiful. The tattoo is done on back where too many square would be there and in between those square will be a butterfly big sized. It will appear as if the butterfly is trying to escape from the trap. The use of contrasting colors would make the entire design mesmerizing.
31. Butterfly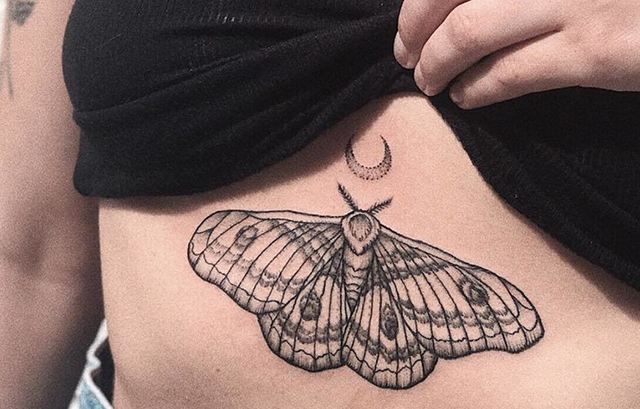 Well, rarely girls go for such tattoos but those who go are really brave ones.
Also See: Belly Tattoo Ideas
32. Skull in a butterfly Tattoo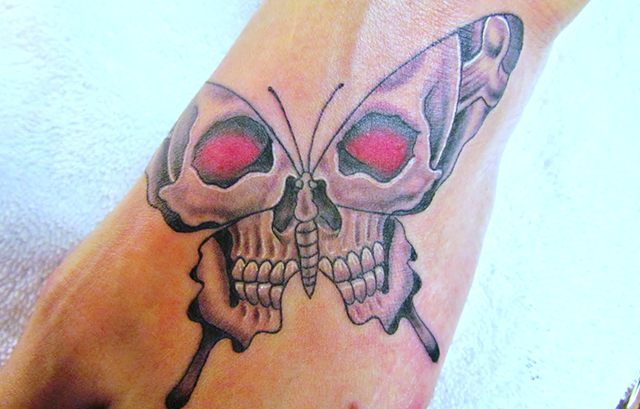 Well, this can suit men much then a woman as it has skull in the butterfly and men are mostly fan of such tattoo designs. But, this one people often get on their foot which is diagonally done on the arch of the foot, girls can also try. Just to bring uniqueness to the traditional butterfly this one can go well with girls too.
33. Butterfly on your back with a touch of realism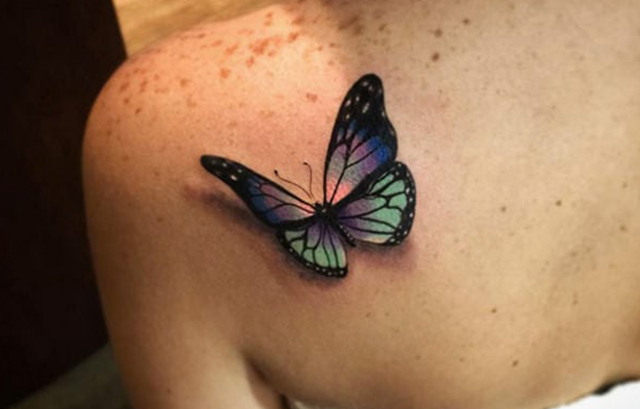 This tattoo is done on back with only black colors which gives an appearance that a butterfly is on a flower or it is swirling around. But this one is a nice deign to make your back look beautiful.
34. Simple and small butterfly on the side of your ankle with a flower on foot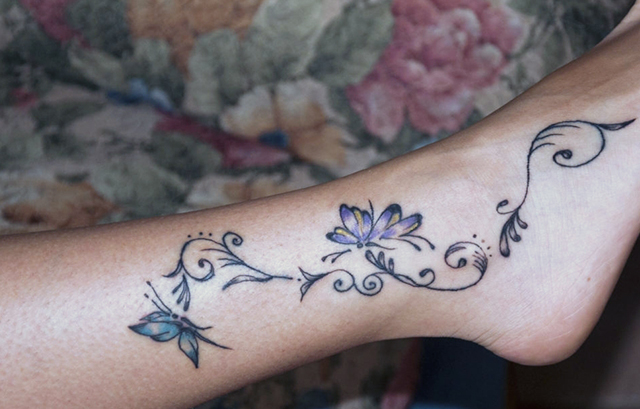 This is very feminine, girls mostly like it and if they have a fair skin than it looks amazing on their ankle. Ankle length jeans and the tattoo on ankle and on foot enough to make your entire look complete.
35. Butterfly tattoo on chest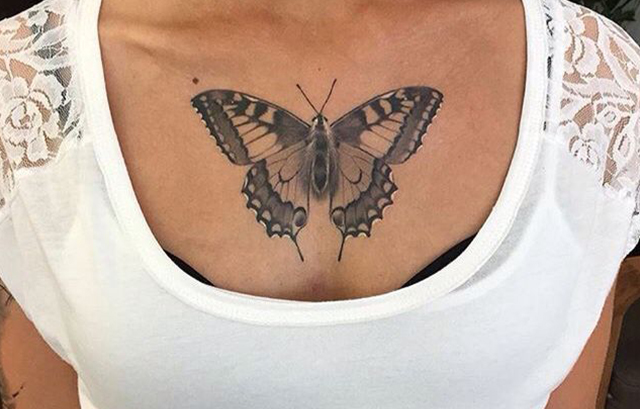 With bold colors and eye-catching placement this one really looks nice. Beautiful butterfly with lots of small flower on a branch makes it look very attractive.
36. Tribal butterfly close to your navel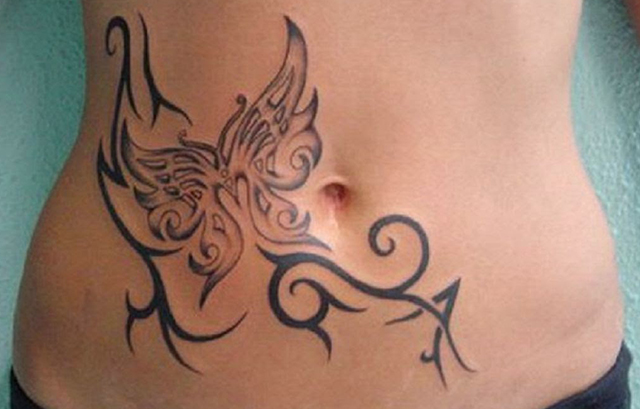 Do you have a slim body then this one is meant for you. The tribal design with butterflies and the patterns around it.
Also See: Tummy Tattoo Designs
37. Simple butterfly just on your shoulder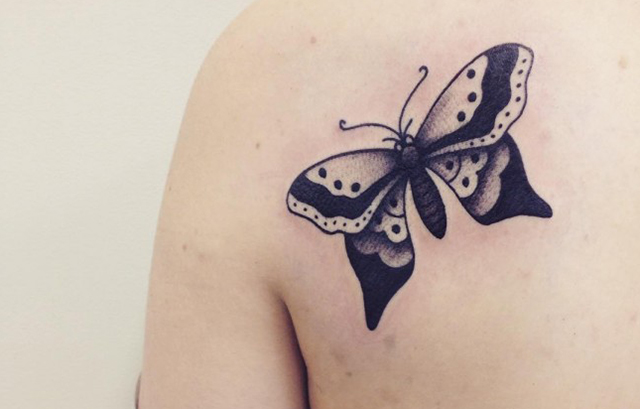 A small medium sized cute butterfly on your shoulder, though common but still hold charm of its own. It still looks very unique and different. It appears as if a butterfly just landed on your shoulder.
38. Simple butterfly on your chest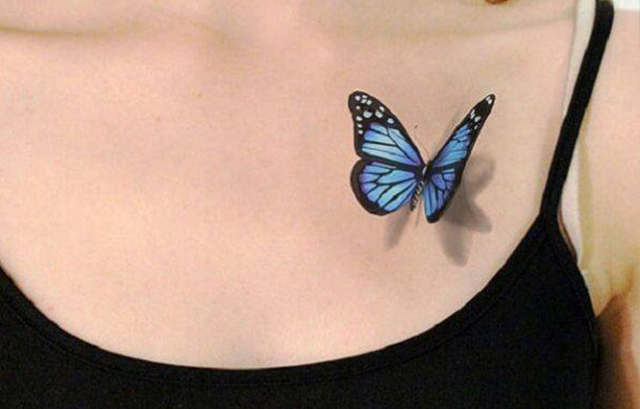 Girls like this one a lot. A simple butterfly which is placed just above a chest any which side you can choose for that matter. The tattoo will be two-dimensional, with simple colors used and a very simple design.
39. Small butterfly on your nape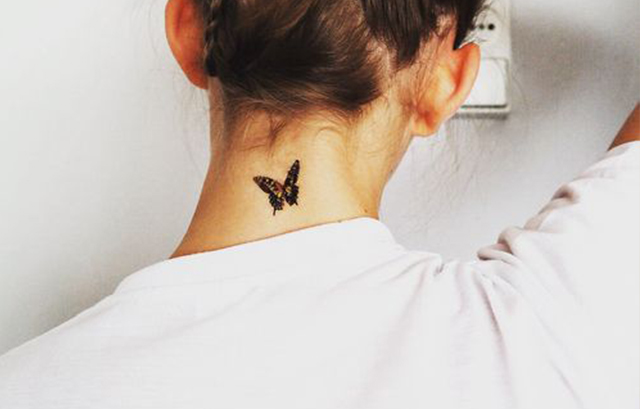 It looks amazingly attractive on your nape. Just a simple, small, and cute butterfly placed on your nape leave others stare at least twice just to confirm if it is something in real or painted. The colors which are used are generally simple like black and white only to keep it simple. When you will reveal your tattoo through your off shoulder dress it will more beautiful.
See More: Small Butterfly Tattoos
40. Butterfly in a rainbow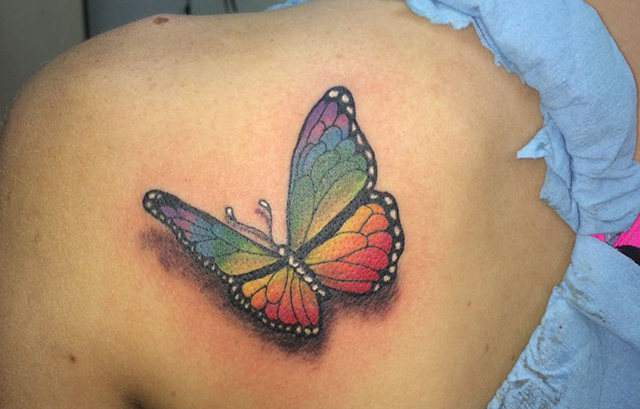 A traditional butterfly with broken lines with different colors and pain splashes. This tattoo uses almost all the colors of rainbow to give it that perfect look in all. And the splattering effect looks mesmerizing.
41. Butterflies all over your spine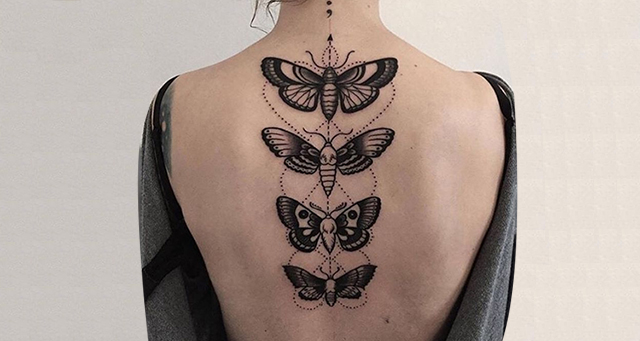 Though this one is going to be very, very painful but will look worth your pain. All the butterflies will follow your spinal column focusing on the symmetry of the body. Size of the butterflies will vary starting with small sized butterflies there will be large butterflies in the middle and again the size will start to get decrease while going upwards, and even butterfly designs can also vary.
See More: Spine Tattoo Designs
42. Too many butterflies and flowers on your lower back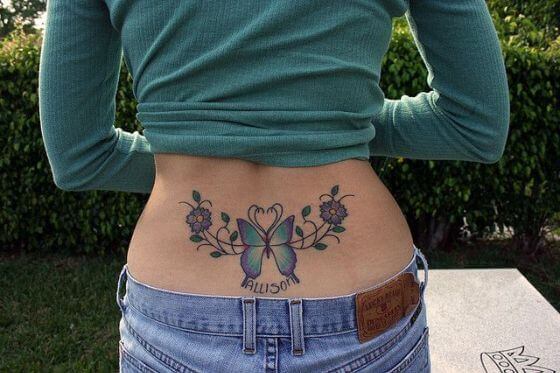 Tattoo with lots of flowers and butterflies with artistic effects will make your lower back look wonderful. Hues of blue and black looks so contrasting yet beautiful. The use of tender blue for the flowers and the daring black for the butterflies… amazing!
43. Butterfly with thin lines on your back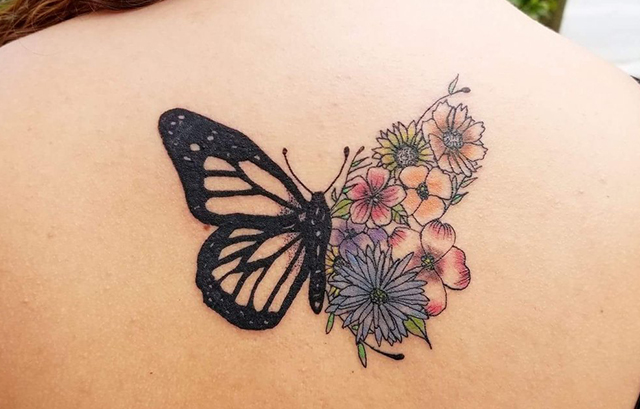 It will look very simple but very beautiful at the same time. More often than not, tattoo like this look like some artistic signature or calligraphy. The entire tattoo is done just in one line! What a genius design. Good to go with to have a unique tattoo on your side upper back.
44. Moth in two parts on your hand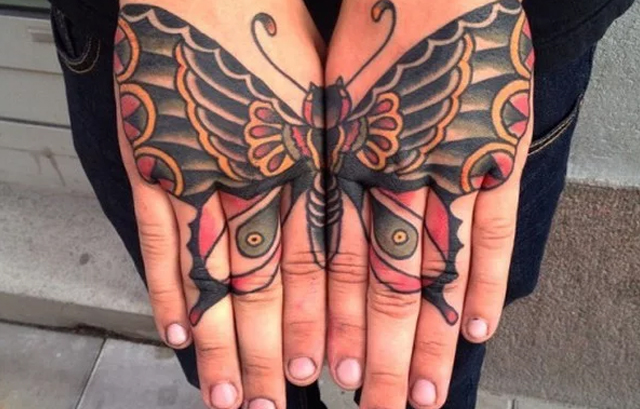 This looks really different as it needs to be done on the sides of both the palms in two parts. Half of the butterfly will be in one palm and the other half on the other palm. However, only few butterfly tattoo designs are there for hands and one is this. The idea looks wonderful. Whenever you will join your hands to greet people then only the entire tattoo will be visible to others properly. Amazing tattoo design. Meant for both men and women.
45. Colorful butterflies in a tree pattern on your back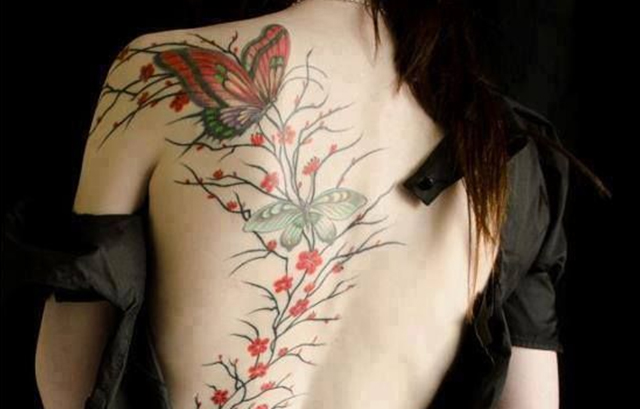 This going to be a big tattoo as it has tree like structure with branches and butterflies on it. It goes upwards starting from the end of back. Looks like some Japanese style design, cherry blossoms flowers are made with the butterflies to give a fresh look and detail to the tattoo. If you have a curvy figure than it is of course meant for you as the flowering tree will curve beautifully with your body, and the giant butterflies on top of the tree will surely catch people's attention.
46. Giant butterfly just below the men's buttons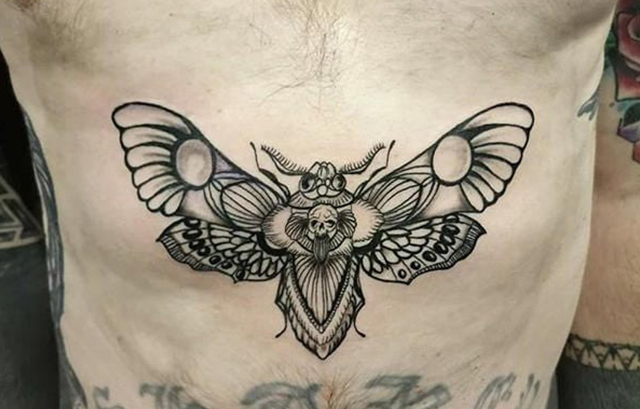 The tattoo will be made in single colors with few shades in it.
47. White colored small butterfly on your foot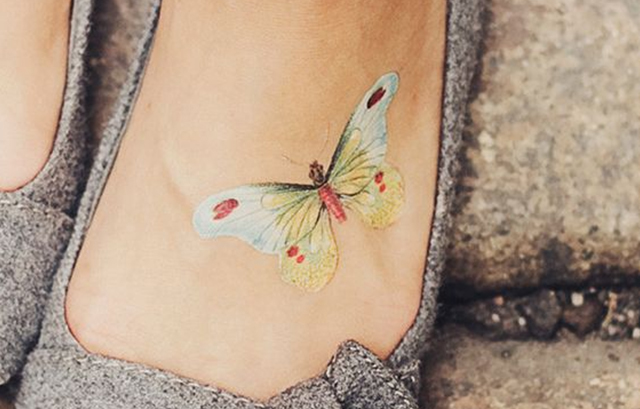 A white colored beautiful small butterfly on your foot with few shades of yellow, grey, black and red in it will look realistic absolutely. When you will wear bellies your foot will look adorable, it will look as if a real butterfly just landed on your foot.
See More: Foot Tattoo Ideas
48. A giant butterfly with skull inside on your chest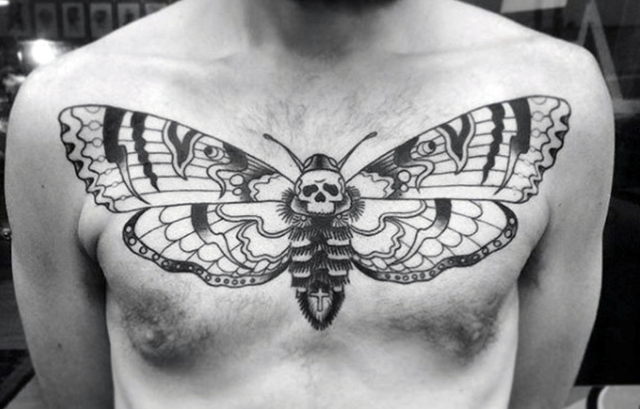 This one is specifically for men. As this tattoo will cover your entire chest till your neck. The wings of the butterfly will cover buttons and the size will be big enough with the face-to-face skulls will give it a pretty dramatic appearance.
49. Small cute butterfly on your finger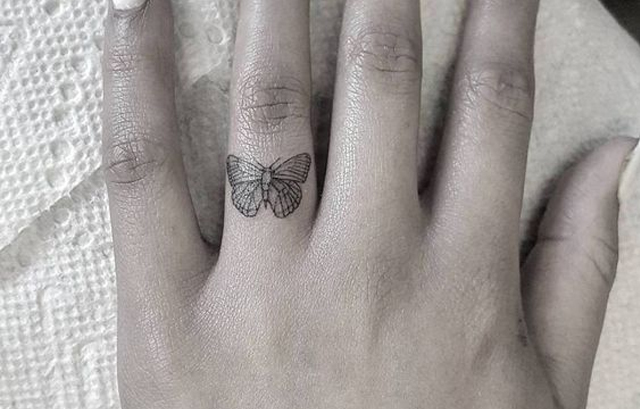 It is going to be very painful but will look gorgeous afterwards. The colors used in the butterfly and the size of the butterfly makes it look very beautiful and super cute. It is very small in size, will work a s ring on your finger. If you really love someone, then to get tattoo on ring fingers will be an amazing idea to show love for each other.
50. 3D style butterfly tattoo on your shoulder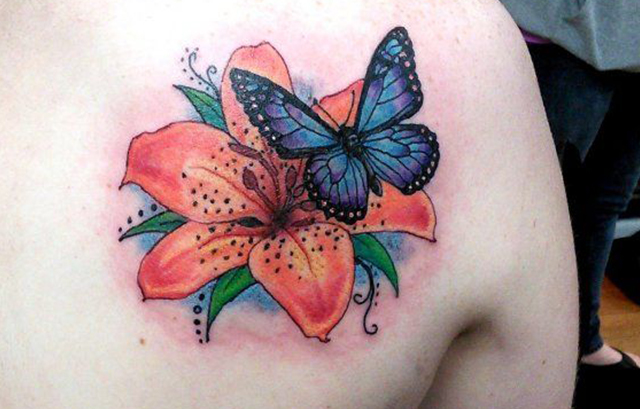 Colored tattoo with really cool shading make the tattoo look like it is 3D. The shape of the butterfly will almost looks like a star. It is very much feminine. The tattoo is done with detail and style which will add to your shoulder back in all.
51. Butterfly tattoo in the eye
After skull in the butterfly another idea of butterfly eye tattoo… or we can say eyes in the butterflies. Tattoo is modern style for those who want to experiment in the butterfly tattoos. The eye tattoo will be eye catching. It appears to be 3D and very creative.
52. Small Black Hand Tattoo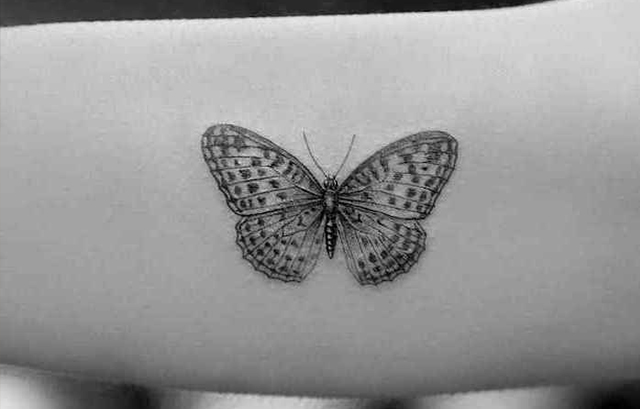 Small Black Butterfly Hand tattoo however is traditional butterfly tattoo but still it looks very beautiful on hand. It is specifically for those who do not want to go for bigger tattoos this one looks elegant and super cool on girl's hands. And the best part is whenever you want you can flaunt and whenever you don't you can hide under your full sleeves.
53. The Venetian style colorful butterfly on your back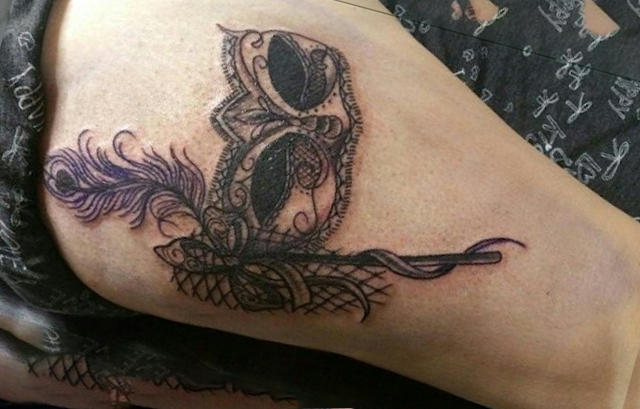 The mask and the colors used in such tattoo will look like Venetian masks. It looks like a beautiful piece of art with the colors, the setting, and the overall style combined so well. It is very artistic piece which I am sure has a deep meaning behind it.
54. Butterfly with a face on your chest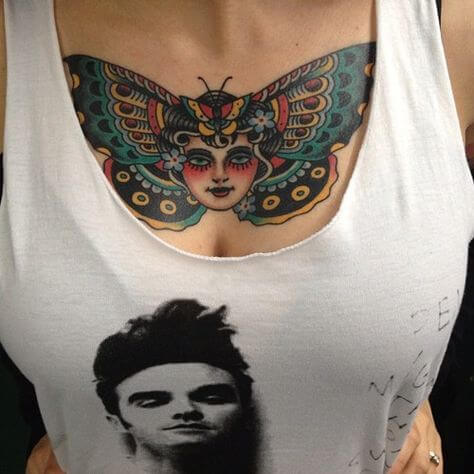 Tattoo will have a butterfly that has a face on it, and the face will have butterfly on it. The tattoo will be placed at the center of your chest. Who so ever will see will become fan on the spot. It is such a beautiful creation. Tattoo will be big in size and detailed.
55. Just butterfly wings on your back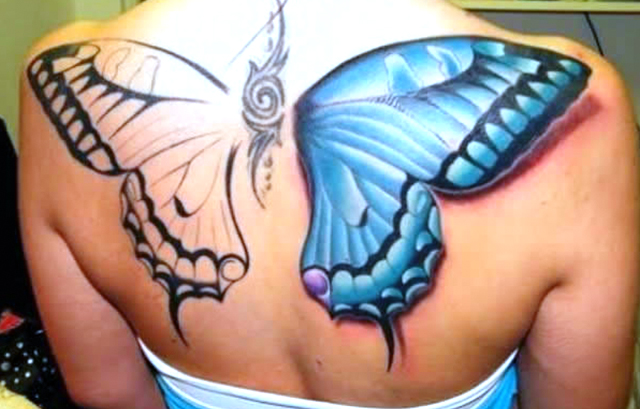 Another butterfly tattoo for your back will be only butterfly's wings. It is a bit typical. The tattoo will be done in a dreamy style. The size and the shape of the wings won't be realistic, but the tattoo looks cool all in all covering most of your upper back.
56. Forearms full with butterflies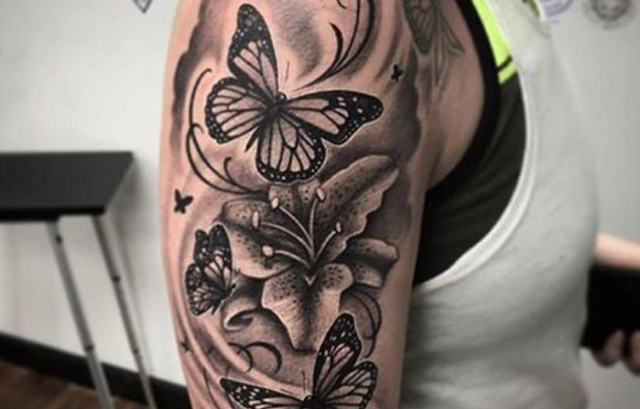 The tattoo design is specifically for your forearms. Different size butterflies on both the forearms will give a unique look all in all. The tattoo is in very black and bold, can go with men and women both. The tattoo is not girly looking at all. Just a way to add a twist to old traditional themes.
57. Old style colorful butterfly just below your nape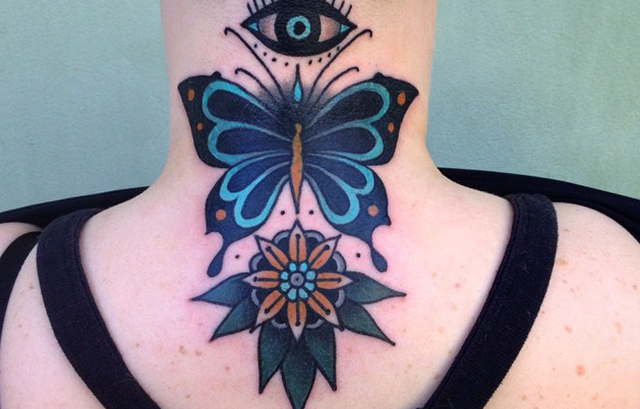 Tattoo will have an old styled butterfly with lot of colors used in it and placed just below you nape. Tattoo however is big in size but will look cool with low cut neck dresses or off shoulder dresses. All in all tattoo looks gorgeous, simple yet beautiful.
58. Big butterflies on your leg
59. Big and bold butterfly on your neck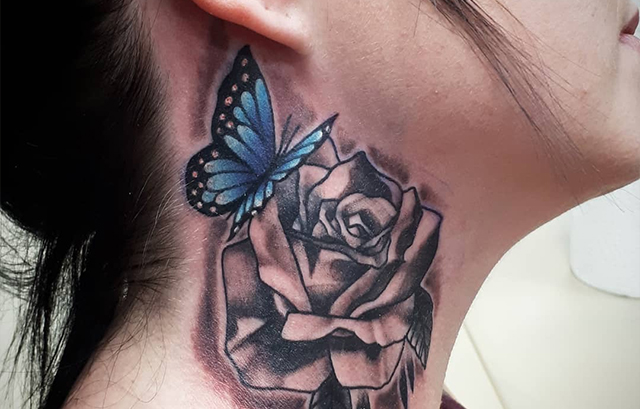 The butterfly on your neck will be big and bold in very dark black giving it unique detail and freshness. The tattoo will fit perfectly on a neck if it is thin and beautiful looking. The tattoo will definitely be an eye catcher. The dark black looks very beautiful.
60. Butterfly on front ear or face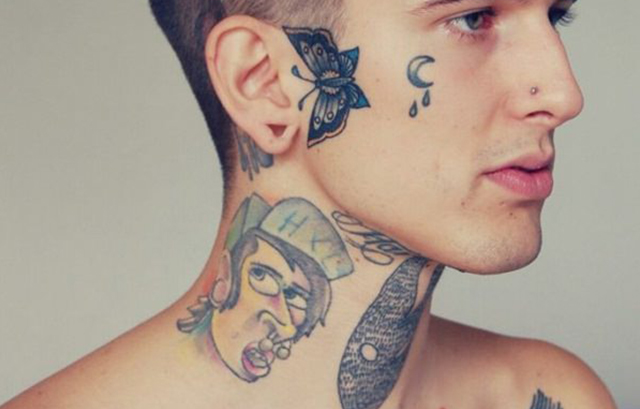 This may seem a bit painful but it looks good. Unique butterfly tattoo that will be placed vertically on the face. But you need to be very, very brave to get it done as it takes lot of courage to go for tattoo like this. It will appear as if the ear is a flower that the butterfly is trying to go for. But it is a manly butterfly tattoo.
61. Colorful butterfly with skulls on your abs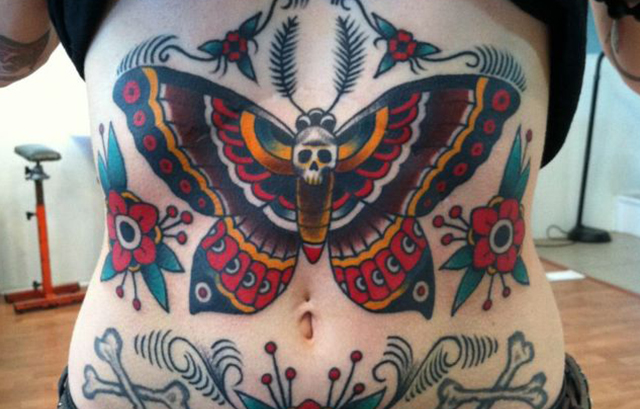 The tattoo is very much manly and will have a huge butterfly with lots of colors, flower and skulls around to detail. It will look impressive, as it is a large tattoo. The moment you will remove you shirt to show off people will want to see it again and again. Same can be done on back also if you wish to.
62. Butterflies and diamonds on your leg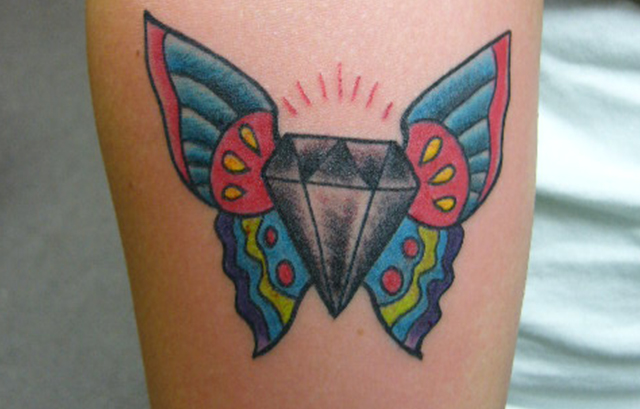 Another combination of butterflies and geometry in which you will get diamonds in the background are made and in between will be three to four butterflies in between. Will give appearance of maze in which butterflies are. The design will be super flattering if the shape of your calves is amazing. For a wonderful tattoo your body shape matter a lot.
63. Butterfly eating tattoo
Yeah! The tattoo on your head that too a big butterfly covering your half head from behind. The tattoo is manly wherein you will replace your hair with a butterfly tattoo. Not bad but yeah you need to be brave to get this tattoo for use.
64. A butterfly tattoo on your collar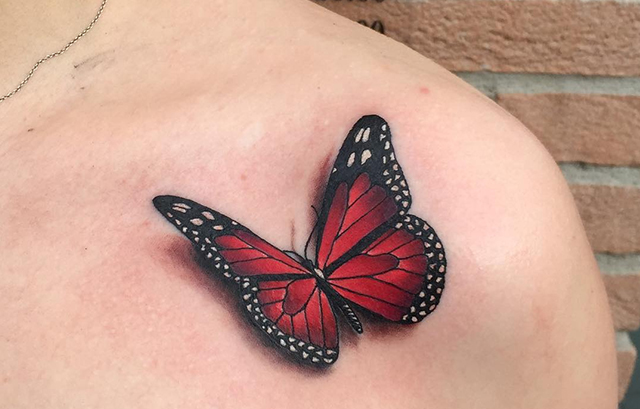 Not everyone's cup of tea but yes will look like a necklace once done. Not common though, design will have a butterfly on a collar of roses and stars. Tattoo will have an interesting contrast between the dark shading of the collar and the butterfly solely made of lines. Impressive permanent necklace for those who love to wear one.
65. Butterflies with your names on back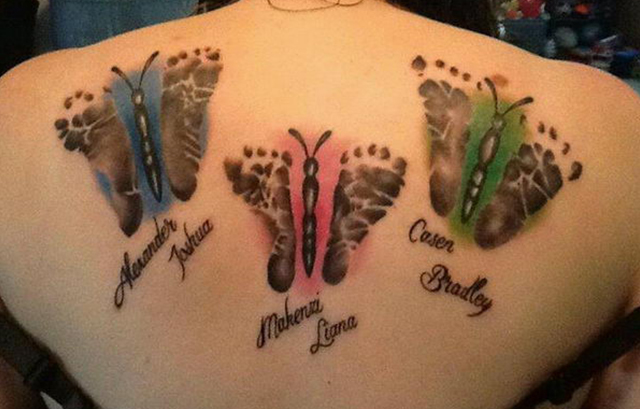 If you love your partner too much than you can surely go for the tattoo. The tattoo names and butterflies both together, though the design is pretty common but looks good. You can combine the butterflies with roses and have your names on the bough of the flower. Super traditional but the tattoo will look very beautiful on your back.
66. Butterflies with your names on your neck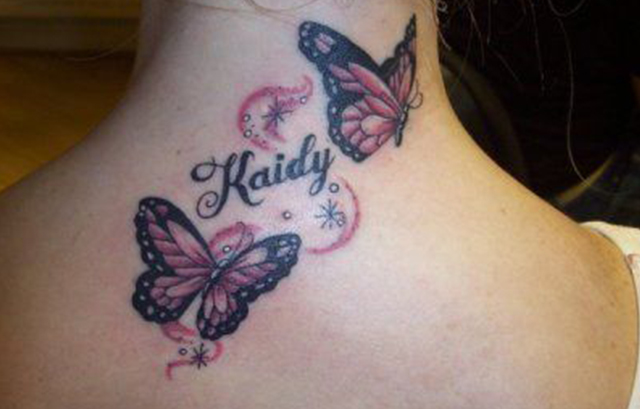 Another design of butterflies and name you can have on your neck it will look like a necklace. Big butterfly and on the wings written your and your beloved's name will look super cool.
67. A butterfly trapped in an octahedron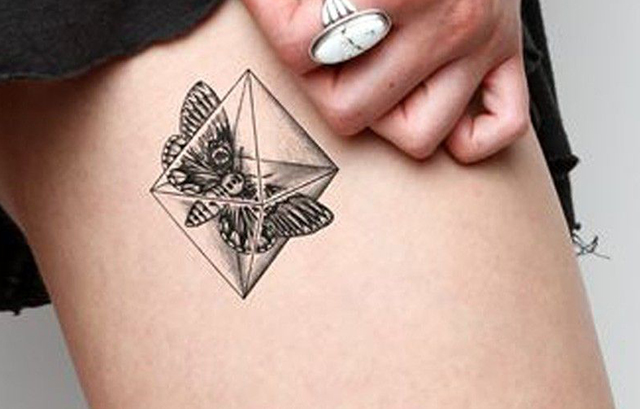 A unique design having a moth inside an octahedron. Tattoo looks pretty cool.
68. Butterflies flying with music on your back
The tattoo will have music notes beautifully put with the butterflies and the swirls will look like flowing together like music. There will be a shadow design just to show the movement the focal point instead of details of butterfly wings.
69. Side tattoos – flying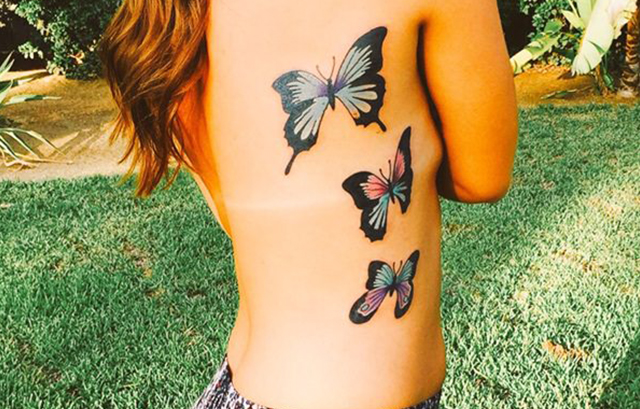 Have butterflies flying on the side of your upper body. The tattoo with three to four butterflies all in different sizes and unique colors will look awesome.
70 Butterfly tattoo on right side neck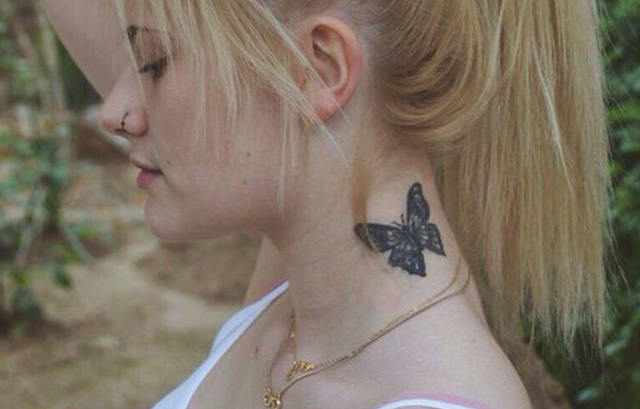 A small black colored butterfly tattoo on the right side of your neck just below the ear will look amazing. The best part is whenever you wish to you can flaunt otherwise leave it hidden under your hair. People will surely praise you for such a beautiful and small art work on your neck.
71. Small butterfly tattoo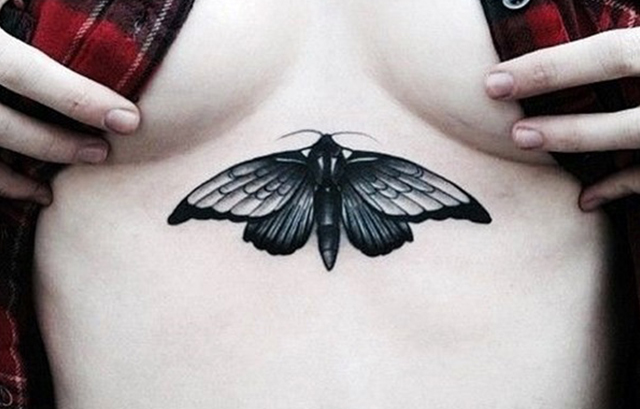 Butterflies in small really, really look beautiful. For girls who do not like giant shaped butterfly tattoos this one will go best for them.
72. Butterflies tattoo on autumn leaves for your wrist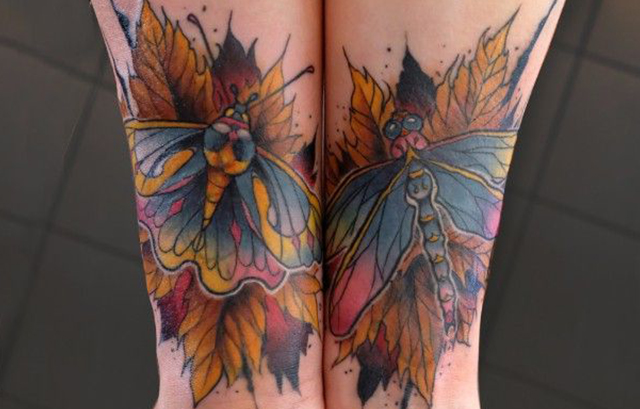 A beautiful butterfly tattoo having butterflies on autumn leave giving your wrist a unique detail will be praised by everyone who so ever will see it. Though the butterfly will be in traditional colors of black and yellow with two beautiful flowers of autumn, the tattoo will look very beautiful on your wrist. But getting tattoo on your wrist you may get a bit of pain but no problem if you are brave enough to take all the pain for that wonderful art work.
73. Colorful butterfly covering your entire left arm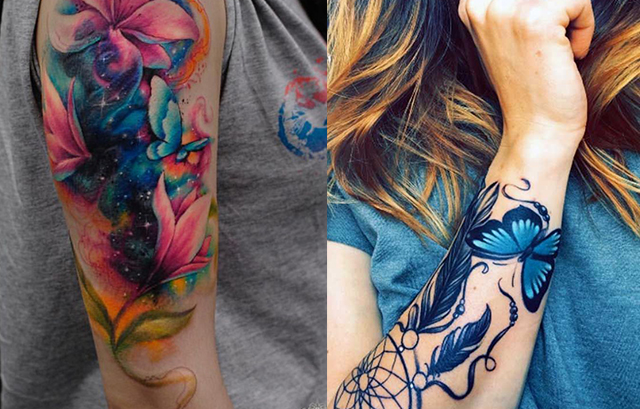 A beautiful and amazingly colorful butterflies with a woman face and flowers around covering your entire left arm will mesmerize everyone.
74. Simple black and white design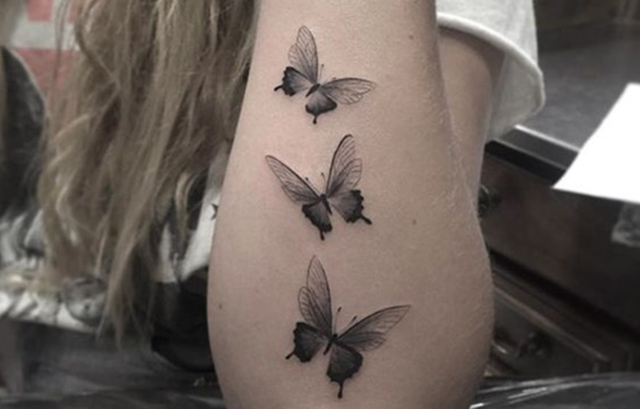 Simple black and white butterfly tattoo on your wrist will leave people speechless. You yourself will not stop loving the idea of having such a simple yet beautiful piece on your wrist. The tattoo looks very simple and unique on its own.
75. Yellow butterfly tattoo on your waist.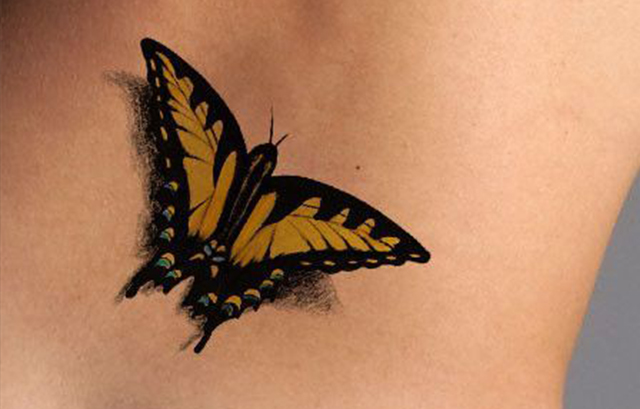 Have you ever seen a butterfly in purple and yellow color tones, if not then you have the chance to get it done on your body. The purple and yellow butterfly on your waist will be noticed by everyone. Though the butterfly is not too big in size it is just medium even a little smaller than medium. But the butterfly will look really beautiful.
76. Half butterfly tattoo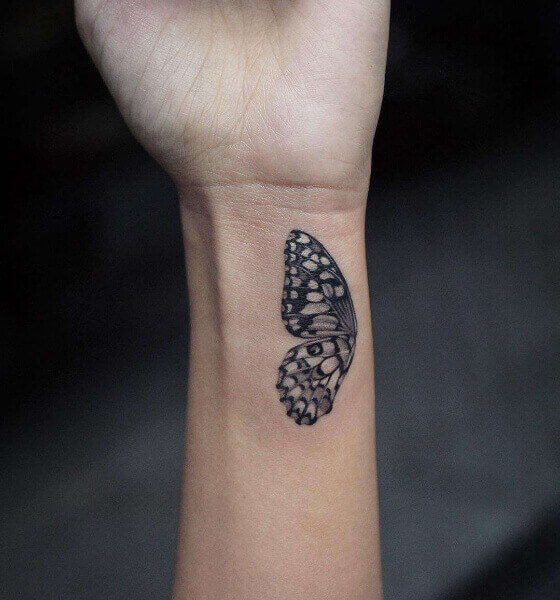 77. Butterfly Ankle Tattoo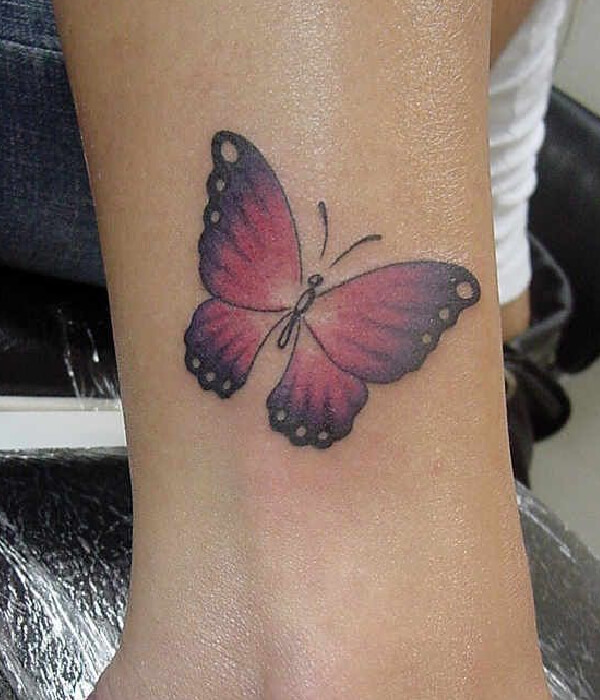 To pan out…
These are 75 best butterfly tattoos for you which you can get anytime, besides that there are many other designs of butterfly which you can place on your head, but that are too manly for that matter. However, if you think you are creative than you have full freedom to create your own butterfly tattoo design and get it done via tattooist of your choice. Make sure the tattoo parlour you are going to go for your tattoo uses sterilized needles and has good reviews. Know about the parlour well in advance before you finally step in there. Tattoos look good and butterfly tattoos always look charming and cute.
#keeptattooing…. #happytattooing
Please follow and like us: