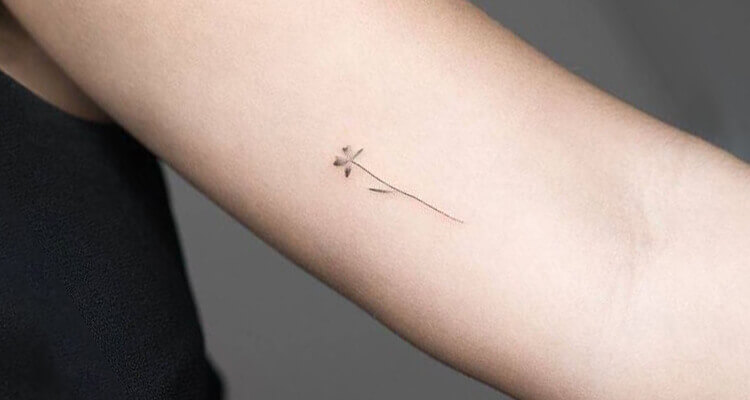 25 Perfect Tiny Tattoos That Anyone Can Have
Posted on
Tiny tattoos are always in trend. Most importantly they are the perfect alternatives for those who love simple tattoos, or for those who do not want to overdo their tattoo, or for the one who love to have tattoo but do not want to flaunt it. Though, there are many advantages of getting tiny tattoos and the biggest advantage is, they don't cost you much for that matter!! Besides, hiding tiny tattoos is very easy, if you are not amongst those who love flaunting their tattoos then definitely tiny tattoos are meant for you. Also, they take less effort, and less pain, and removing them is relatively easy.
Moreover, later if you want, you can even get your tiny tattoo seamlessly convert into a whole new image or design. Most common tiny tattoo designs include flowers, symbols, quotes, names, numbers, initials, hearts, stars, flowers, leaves, rainbows, butterflies, and many more.
Hiding tiny tattoos is very easy, get them in some parts where it is less or not visible at all, such as arms, wrists, neck, nape, back or your chest. Where ever you want to get your tiny tattoo, it is possible. Extending tiny tattoos is also possible.
If you are also looking for some tiny tattoo design for yourself. Here is a list of some cute, elegant and gorgeous tiny tattoo designs for you to choose from.
Keep reading……
1. Specific Date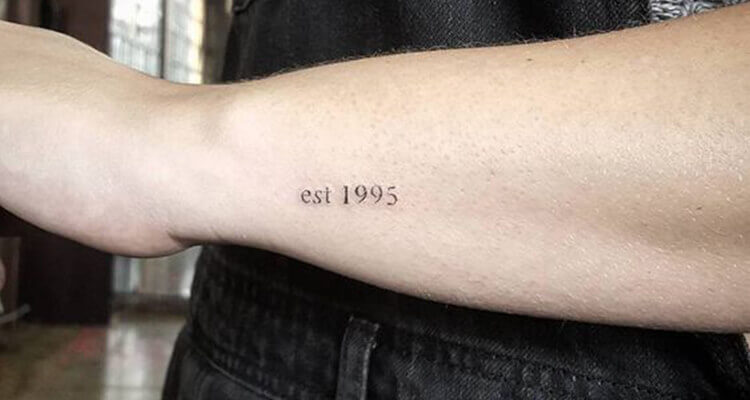 If you think you have some specific date in your life which is worth flaunting, then you can get it inked on your body parts like fingers, arms, and chest (if you think you can). There are people who get specific or important dates inked on their body. For an instance, the date when she said yes to your proposal, or the one when you two met for the first time. Oh!! This is going to be really romantic. Try out!!
2. Her/ His Name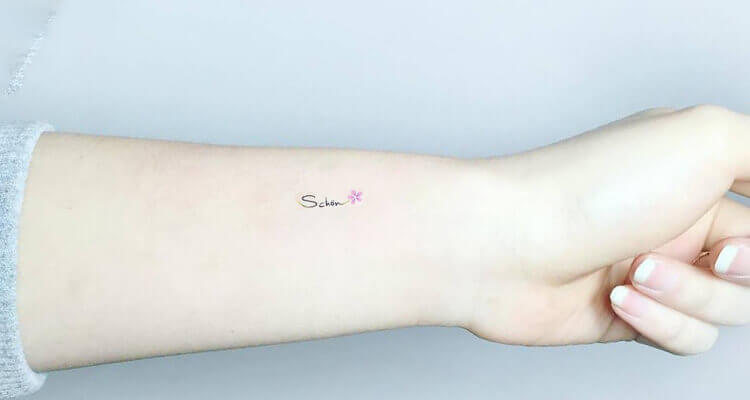 Another very common tattoo design which anyone can get is the small name tattoos of the person you love the most. Yes, people who want to flaunt their love for their partner, they get their partner's names inked on their body. And believe you me, the tattoo looks amazing. You can get these names inked in any language, font, of your choice. The best body part to get these names inked are arm, hand, chest etc.
3. A Tiny Butterfly Tattoos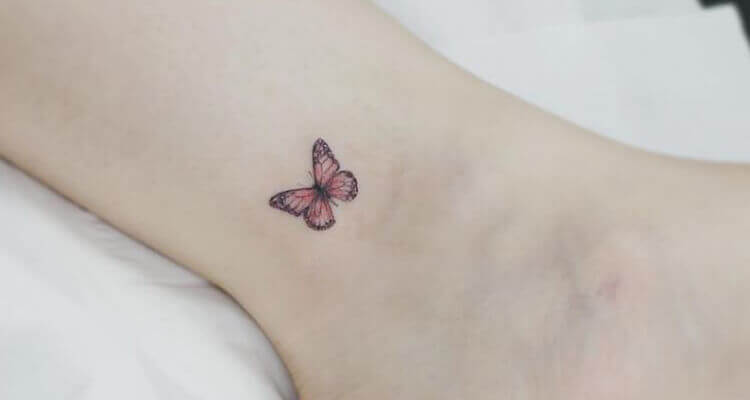 However, butterflies are very common designs and most often liked by girls. But trust you, butterflies really make cute and gorgeous tattoos. The best part is, you can have butterflies in any size; however, tiny butterfly on your arm, shoulder, neck, nape, near the ear, finger, etc. looks mesmerizing. You can hide it whenever you want and you can flaunt it whenever you want. It's so easy with butterfly. You can have butterfly in white ink or black ink or even colorful butterfly will also look enchanting.
4. Your Zodiac Sign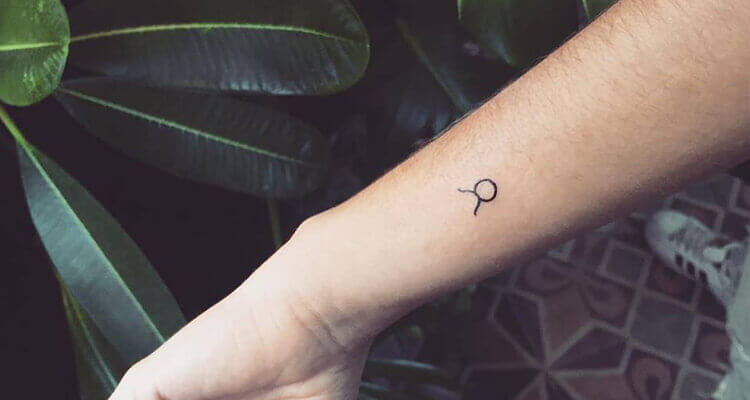 Yes, people who love their zodiac sign get them inked on their body, and they look really good. You must have seen that every zodiac has a symbol, some has really cute symbols. If you are really confused with which design to get on your body, then your zodiac sign can be a perfect design for you. You can get these designs inked on your nape, neck, arm, shoulder etc. They look perfect.
5. Small Symbol Tattoo of Peace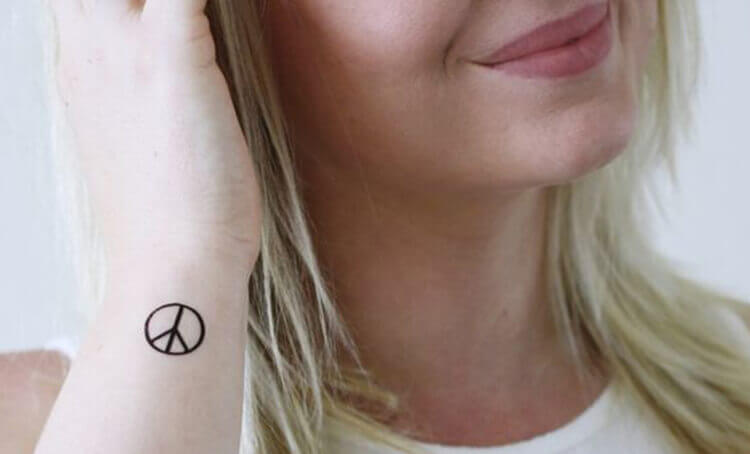 Symbol of peace really makes a perfect tattoo art. You can get this symbol inked on your arm, shoulder, neck and nape. The tattoo looks really great in black and if you want you can add some extra elements with it to make it look more creative and unique.
6. Cross Symbol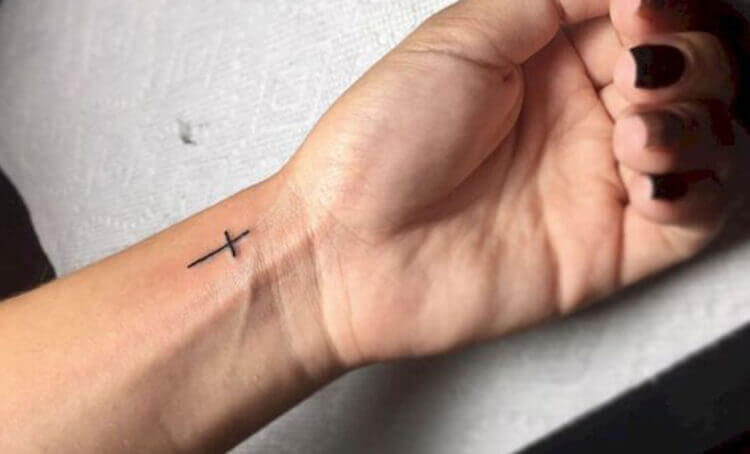 A tiny cross tattoo is for those typical tattoo lovers who feel that having a cross inked on skin can provide them an excellent protection. Or for the ones who love to show their devotion and dedication to Christ. Some get it done because they think it looks elegant, different people different theories however. Yet the piece looks really majestic on wrist, neck, nape, and arm.
7. A Tiny Star Tattoos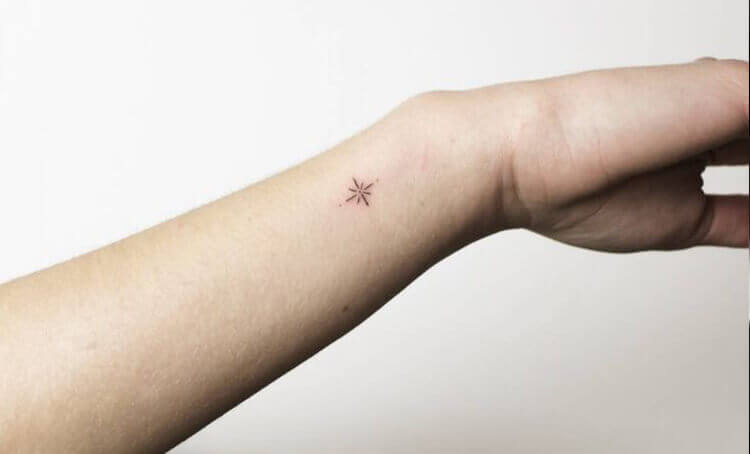 Tiny tattoo list is incomplete without a star tattoo in it. Yes, tiny stars really make a perfect tattoo designs for the girls who love to have tattoo but do not want to overdo it. Though a star tattoo is a common design yet it holds an extra charm of its own. You can get a tiny star inked on your nape, neck, chest, arm, shoulder. It will look gorgeous believe you me!
See More: Star Tattoo Designs
8. Orion's belt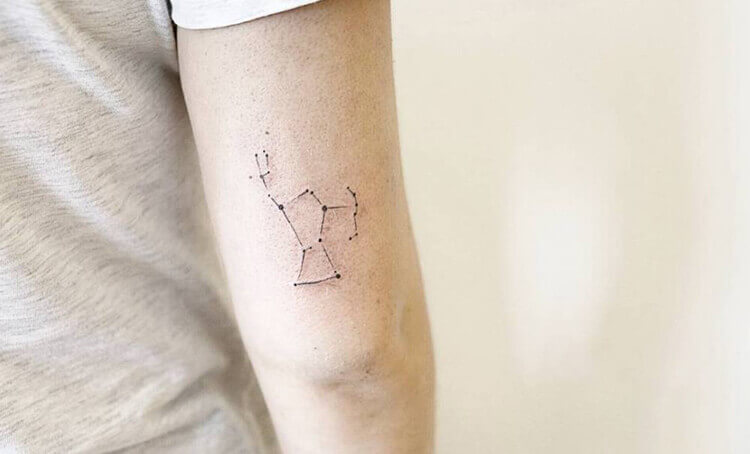 If you want to get more than one star then you can even go for Orion's belt. You can get your three stars on your arm, neck, nape, shoulder blade, and near the wrist. These stars look really cool when done in black, but white will also justify the design. However, if you wish you can fill your three star tattoo with colors.
9. Tiny Heart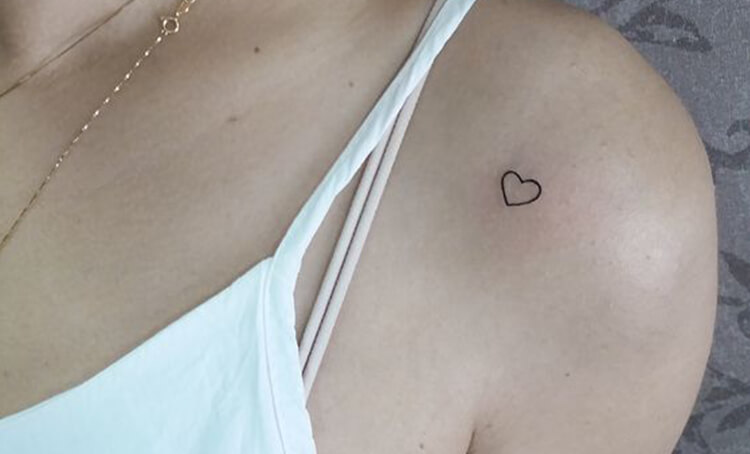 How about having a tiny heart tattoo on your body. Though heart design is also among the most common designs, but they look beautiful in any case. There is something special about them, they never go out of fashion. You will see most of the girls with heart tattoo, I think they make perfect tiny tattoos, that's the reason they are liked so much by girls. Best for the ones who want a tattoo but not anything in large. You can get a heart tattoo in black or white ink on your wrist, neck, or shoulder. I have even seen some boys having a heart tattoo with some name in it (may be their loved one's name ☺).
10. A Music Symbol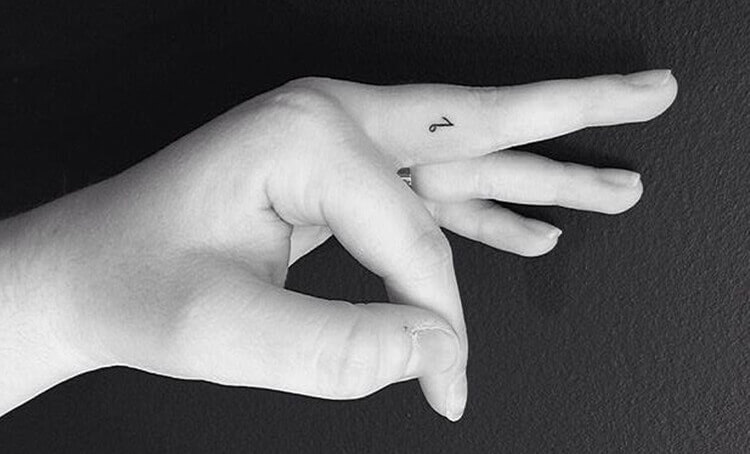 Here's to all the music lovers out there, a music symbol is a perfect design for them to show off their love for the music. Mostly rock stars flaunt their body with huge artwork, but this design is for the people sensitive about music, who know how to express their love for music without showing it off on large scale to the world. A small symbol of music note on the inside of your wrist, or near the ear will look stylish as if dedicated only and only to music. Anybody who is passionate about music can get this design.
11. A Mother Daughter Symbol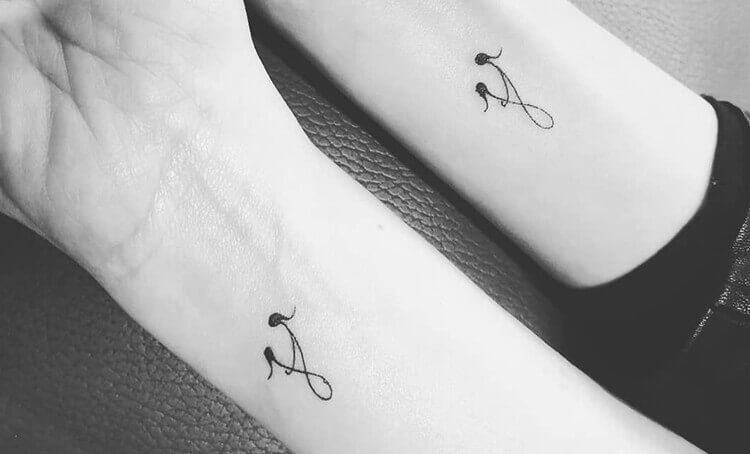 A tiny mother-daughter symbol done on either nape or neck, or maybe you can get it on your shoulder blade will look mesmerizing. The symbol looks really beautiful, it simply represents how much you love your new born baby. This design simply represent the motherhood. Some single moms go to for the design to just flaunt their love for their only family member. Likewise, reason could be any, but the design looks perfect. If you also want to tell how much you love your kid, you can choose this one.
12. A Quote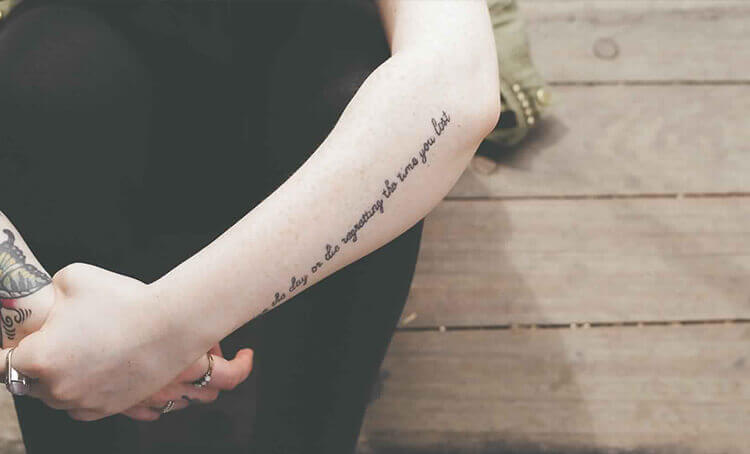 Any quote which you think can represent your true self well, you can go for that. You can get this quote in italics or in running font. It will look wonderful. Your quote can be in any language, make sure you know the meaning of the quote specifically. Quotes mostly look beautiful on inside of forearm, inside of the wrist, or on the nape or waist. Where ever you want to have it, get it done!
13. Some Random Quote or Phrase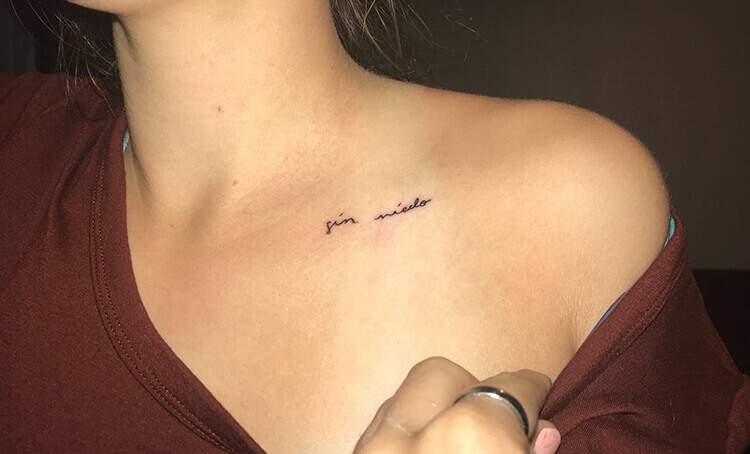 Have you seen PC's tattoo which says Daddy's girl, you can also go for something like that. And it really looks great even when you get old. There must be something in your life too, and if you think you are ready to show off same to the world. Get it inked on your body and let people also see it. You can get these random phrases or quotes on the inside of the wrist, forearm, chest and neck. They look cool!!
14. Tiny Direction Tattoos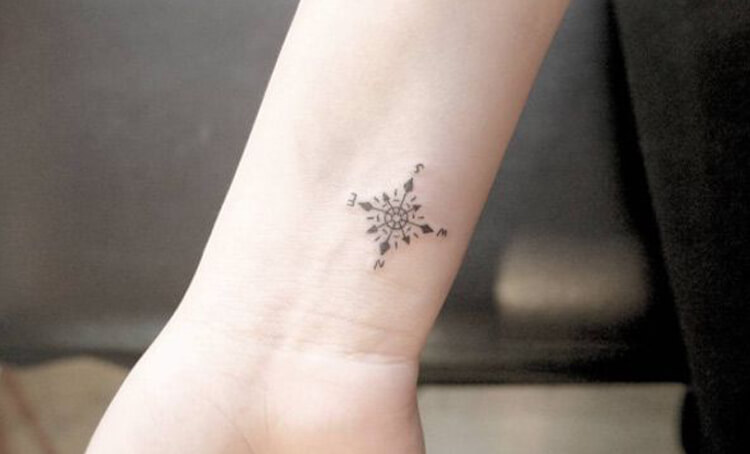 It is an out of the box tattoo, for the ones who has their own ways to live and lead their lives. If you also want to show off your 'out of the way' attitude to the world, then this is the design for you. You can get all the four directions defined by arrows inked on your hand. The design will look mesmerizing, make sure it is small in size.
15. "XO" Symbol
The best part of tiny tattoos is, you can get any design of your choice. Like, XO which means kisses and hugs! It's a tiny tattoo design which looks really pretty on any girl. You can get this tattoo on your finger, wrist, near the ear, and chest. Just imagine a tiny XO on your chest.
16. treble clef Symbol Tattoo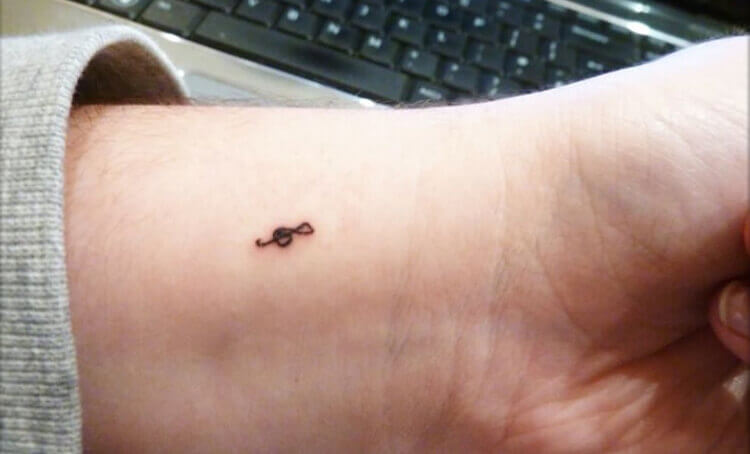 Just like any other small symbol tattoo designs, this one also makes a perfect tattoo. This tattoo is called treble clef tattoo, you can get it in italics or bold, anyways it looks cool. It simply represents how life is full of great expectations and there is a lot to do to meet those expectations. The perfect part for this tattoo would be your fingers, wrist, arm, and chest.
See More: Music Tattoo Designs
17. An Angel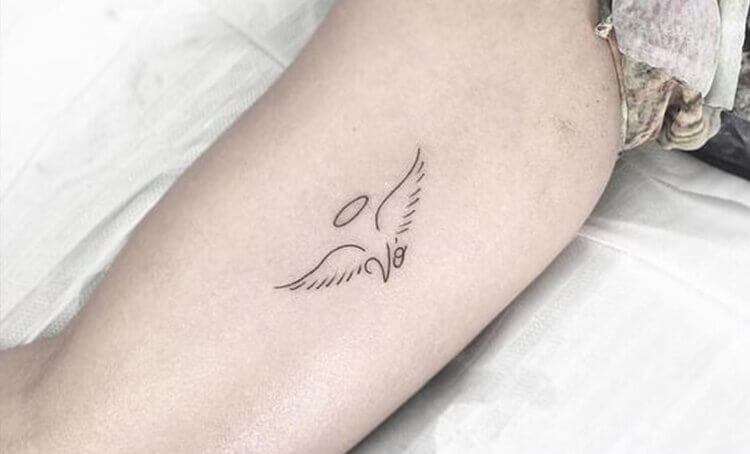 An angel on your shoulder blade will look beautiful and stunning. It will be an eye-catching tattoo design, especially when you will wear some off shoulder or sleeveless outfit. Angels are girls' most favorite tattoo designs, no matter how common they are. They never lose their charm. If you think you also love angels and want one for yourself too, then get one on your shoulder blade or neck.
18. Tiny Floral Tattoos
Flowers are for girls, MOST OFTEN! A tiny floral symbol or design with or without an intricate design will look stunning on your neck, back, lower back, and leg. Where ever you want for that matter. You can get inked any flower like sunflower, dandelion, rose, lotus or marigold with some branches with it. A perfect tattoo design for nature lovers!
19. Geometric Element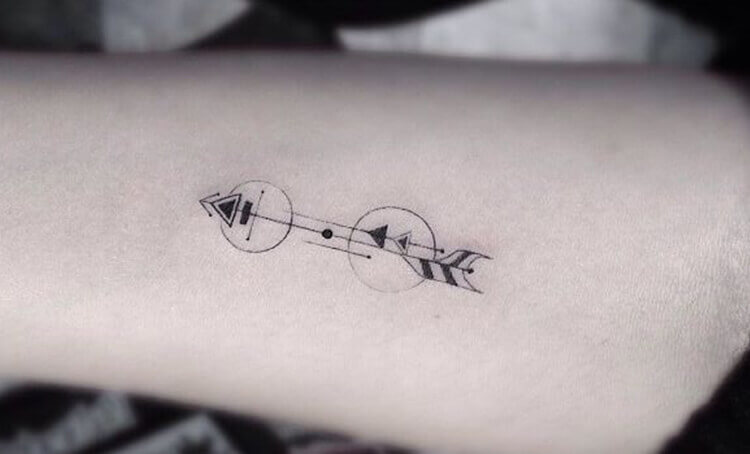 Undoubtedly, geometric elements make cool tattoo designs. They are meant even for those who have always hated mathematics, they will also not mind getting geometric elements on their body. Absolutely up to you whether you want to get them alone or with some other design. Also, if you add element from nature too, the design will look more enchanting. Get it on your arm, or feet.
20. Feather Tattoo
If you love feathers, then trust they also make wonderful tattoo designs. Like birds, feathers too represent freedom that is incomparable. Feathers, however, look meaningful and enigmatic. If you wish you can make it look artistic or realistic, the tattoo looks great in any case. You can get this tattoo on your shoulder, wrist, leg, near the ear anywhere. Just flaunt it…. ☺ ☺
21. Your Lucky Number in Roman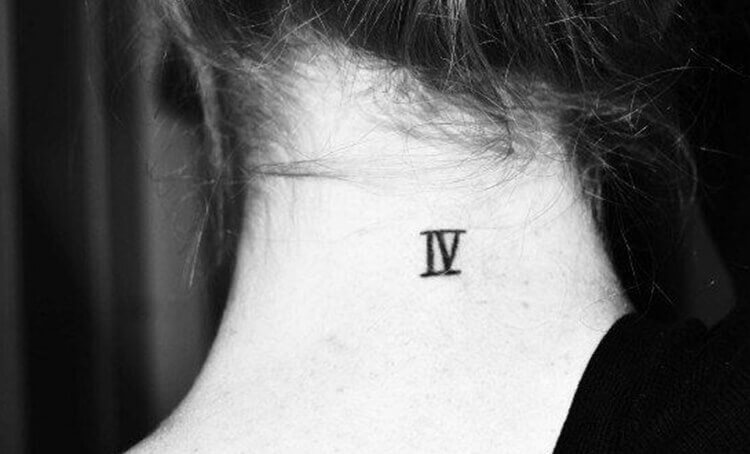 If you think there is some lucky number which you can get inked on your body, then getting it as your tattoo will be the best option. Roman number look really cool when tattooed on any part of the body. They really make cute little tattoo designs. Roman numbers stand for grace, elegance and boldness. Getting a roman number tattoo on your neck will leave people awestruck. You can get your wedding date inked in roman on your body. An out of the box tiny tattoo design.
22. An Arrow tiny tattoos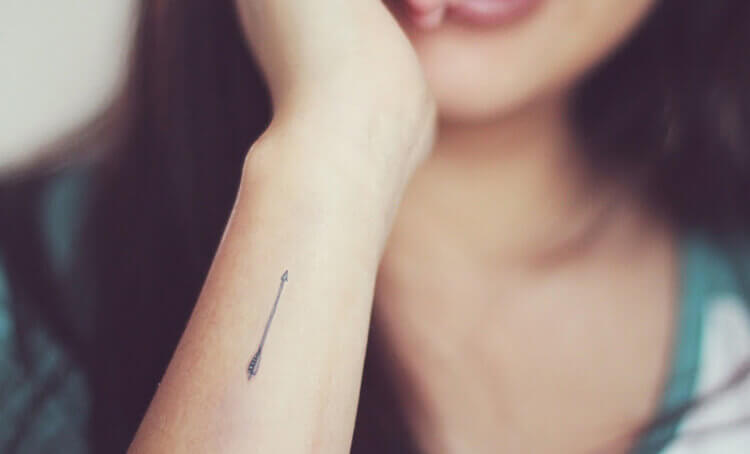 Arrow not only makes cute tattoo designs, but also bold designs. It has never been important to be an archer to get an Arrow tattoo. You can get it otherwise also. Like star tattoos, arrow tattoos are also common. To make it look archaic you can add a bit of carvings and other details to it or you can add a bow to it, or leave it simple and plain. The best place for this tattoo is your neck, otherwise your wrist and shoulder will also do fine.
23. An Anchor tiny tattoo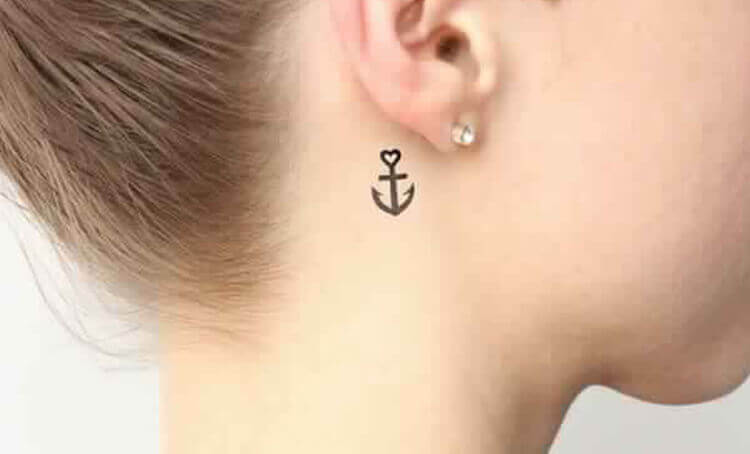 Tiny anchors look cute and mesmerizing. Anchors basically stand for strong roots. If you also possess qualities like perseverance and stability, which an anchor usually represents. Then you can go for this design. Anybody can get it, a man or women. You can get this design on your wrist, neck, finger, and ankle. In fact, any part is good to go for this tattoo.
See More: Neck Tattoo Designs 2020
24. A Tiny Clover Tattoos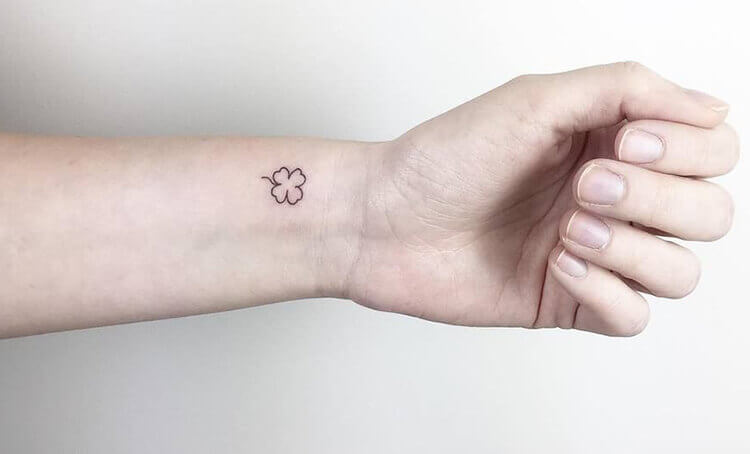 Another very beautiful tiny tattoo design is getting a clover inked near your thumb area or wrist area. A clover is an herbaceous plant with dense globular flower heads and leaves that are typically three-lobed. The design looks really beautiful and mesmerizing.
25. Just Initials
Believe it or not, but just initials of your name or anybody else's name who you love or admire the most, make perfect tattoo designs. Have you seen Selena Gomez's lower case letter "G" just near her ear. It looks great. You can also get your initials inked in either lower case or upper case. These tiny initial tattoo look good near the ear, wrist, and finger. Try out yourself!! You will love the idea all in all.
Thanks for reading…. I hope the list helps you decide your tattoo design for yourself.
All these tattoo designs mentioned above really make perfect tiny tattoo designs. They look great no matter where they are etched, or how you are as a person shy or bold.
Enjoy Tattooing!! ☺ ☺
Please follow and like us: